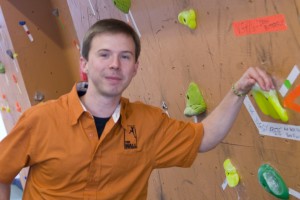 Mike Taber, a 2006 graduate of Oswego State, recently opened the doors of his new indoor climbing facility called The Wall. This is the first indoor climbing facility in Central New York.
Taber has been working on this establishment since May 2010 and it finally debuted on Sept. 15, 2011.
Not only is Taber an Oswego alumnus who majored in business administration but he was born and raised on the west side of Oswego. He came up with the idea for The Wall not too long ago.
"Ever since I was in college I had wanted to open a business," Taber said. He opened a soda bar business in 2008 called "Taste-Buds" across from the Oswego movie theatre, but unfortunately, it was only open for a year because of the lack of sales due to the economic recession.
"After 'Taste-Buds' closed I realized I wanted to open another business and after some thought, I came up with the rock climbing business."
"When the idea popped in my head, I was at RockVentures in Rochester and I was there climbing and thinking we need this here in Oswego," Taber said. "I knew I didn't want to drive all the way to Rochester every time I wanted to rock climb. I realized this was not only a problem for me, it was a problem for many. This is something I would've wanted when I was younger."
Soon after Taber realized there was a need for an indoor climbing facility, he constructed demographic research and surveys, which returned positive feedback.
"I'm opening up a rock climbing business because I haven't gotten the chance to do it as much as I wanted and I've developed a passion for it," Taber said. "I'm a beginner to intermediate climber."
So far, he has been receiving optimistic opinions about The Wall.
"Everyone who has come in, has said that it was fun," Taber said. "We've had about 75 Oswego students and about 100 Syracuse students because this is the closest one to them, as well."
"The Wall offers climbs for people of any ability level, as well as professional lessons for skill development," said Mac Dillman, a frequent climber at The Wall.
He added that the prices are feasible and the staff treats you with respect while you climb.
"The Wall offers technical, mentally and physically challenging climbs that will never let you get bored."
In order to attract people to The Wall, Taber has created incentives for Oswego State students to come and try climbing. He offers a discounted semester-long membership as opposed to an adult membership package. If a student presents their driver's license and their school ID, they can purchase a $90 membership for five months.
"If you were going to do a six month package for adults, its $132, so it is discounted for students," Taber said. "We've also had the chance to walk around the town handing out $1 passes and we even offer a 'Ladies night,' which is starting on October 5. Every Wednesday from 6 p.m. to 9 p.m. ladies climb for $3, which includes rentals."
Students have walked into the establishment thinking that the walls were going to be gigantic. Oswego State student Ted Winkworth was initially expecting something massive and intimidating.
"The climbing wall is only 15-20 feet high," Winkworth said. "I was a first timer so I guess I just figured high was better. I was wrong."
Since the day they opened, The Wall has had close to 300 people come in and climb the vast number of wall courses they offer.
"I love this place because I want to see Oswego grow into a place that has more options for people who want to have an active, healthy lifestyle," Winkworth said. "I've already made friends there and it became comfortable really quick so I end up finding myself there two to three times a week."
Taber believes townspeople and college students will enjoy his new business essentially because it is something new to do.
"There is nothing else like this in Central New York," Taber said.
Lee Fladder, a beginner climber, cannot climb too many of the routes yet but insists that he still loves to climb there.
"They don't have too many walls, but they still manage to deliver a full spectrum of facility," Fladder said. "I don't seem to encounter much of a crowd there so the whole place has a relaxed air."
This establishment holds 41 different routes, in which anyone can climb, with some more challenging than others.
"This is fitness and fun," Taber said.
---
The Wall is located on 77 W. 1st St., a couple of blocks down from King Arthurs.
Hours:
Weekdays: from 12 p.m. to 9 p.m.
Saturdays: from 10 a.m. to 9 p.m.
Sundays: 10 a.m. to 6 p.m.