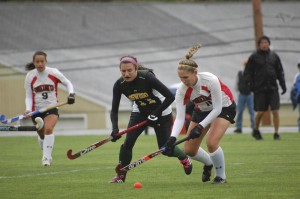 The Oswego State field hockey team played Elmira College to a 5-3 victory on a cold and rainy Tuesday afternoon to improve its season record to 4-8.
Despite the inclement weather, the Lakers moved the ball on their way to the most offensively productive game so far this season.
Senior forward Katie Mazuchowski had the first two scores of the afternoon, followed by goals from junior Alyssa Hare, sophomore Ashley Collins, and finally, senior Kelly Collins who scored mid-way through the second half.
Mazuchowski, whose goals came early on in the first half, liked what she saw on the offensive side of the ball on Tuesday.
"We had good corners today, our second corner was the best one," Mazuchowski said. "It was nice to see that they were finally clicking."
Coming off a "Stick it to Cancer" victory against SUNY Oneonta on Saturday, combined with Tuesday's win, the Lakers earned their first back-to-back victories of the season. With only six games left on the schedule, every game is important.
The Lakers sealed a victory against Oneonta when Kelly Collins broke a 2-2 tie with less than two minutes remaining. Collins intercepted an Oneonta pass and beat goalkeeper Tess Tracy to give the Lakers the lead.
Kelly Collins also scored the first goal early in the game giving Oswego State a quick lead. Oneonta forward Megan Warning tied the game later in the half and junior midfielder Ashley Morgan added a second Oneonta goal less than two minutes later.
Freshman midfielder Lindsey Spatola scored her first goal of the season 26:57 minutes into the half evening the game at 2-2.
In the second half freshman midfielder Courtney Collins, sister of Kelly Collins, was taken off the field because of an injury that resulted from a push from an Oneonta player.
"That last goal was for my sister," Kelly Collins said. "Nobody pushes my sister and gets away with it."
Head coach Brandi Lusk said she was pleased with the way her team played during Saturday's game, despite a high number of penalty corners. During Tuesday's game the Lakers gave up 10 penalty corners, improving from 18 on Saturday.
"We need to continue to play to our potential which we saw some glimpses of today," Lusk said. "For the rest of the season we really need to focus on that and continue to push each other."
The Lakers will use Tuesday's victory as foundation going forward to build on what they have already accomplished this season in order to improve the team even further.
"These three games this week matter…they definitely help with confidence and our record," Lusk said. "They're definitely three games that are winnable and it all started Saturday with that positive momentum."
The next two games for the Lakers are non-conference contests against Keystone College and St. John Fisher College, but are every bit as important as every other game on the schedule for a resilient team continuing to fight their never-ending battle to improve their win-loss percentage.
Following those games, the Lakers will host SUNY Cortland on Senior Day, which is 7-3 overall with an undefeated record in conference play.
Before the big day arrives for seniors, Lusk would like to focus on "getting the whole team on offense and defense." This would help decrease the number of goals and lead to more scoring opportunities.
Another big factor in victories is team communication on the field, something Mazuchowski would like to see more of.
"We have to talk more all over the field on both sides of the ball," Mazuchowski said.
Doing this will result in better passes and awareness all over the field so that the team can know where one another are at all times and always find someone to pass to, and in turn, turn the ball over less.
With two-thirds of the season over for the Lakers, it is time to start thinking about the postseason. In order for this to be accomplished, the last handful of games is going to be vital. For a team that has struggled in road games this year it's fortunate that the Lakers have only one more game away from home.