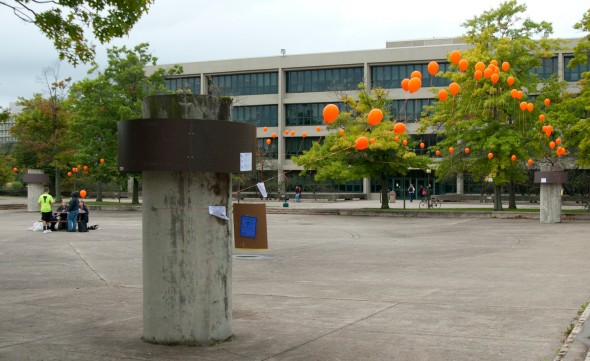 Orange balloons hung around the three-quarters of the Academic Quad to bring awareness to mental illnesses on Monday.
Active Minds celebrated National Day Without Stigma as part of Mental Health Awareness Week by hanging the balloons and providing information about mental illness around the quad until 5 p.m.
"Without really having to speak, we are saying so much just by visually impacting them," said Ali Martin, co-president of Active Minds.
The event's purpose was to bring more attention to mental illness stigmas and potentially put some of these stigmas to rest.
Often, a mental illness is identified when a student is college aged, said Jane Leblanc, a counselor at the counseling center. Among schizophrenics, 75 percent developed the disease between the ages of 15 and 25.
The stigmas associated with mental illness hurt people directly because one in four people manage a form of mental illness, Leblanc said. Everyone else knows someone with a mental illness, whether it is a family member or friend.
"Because it's not talked about, so you think that people will treat you differently," said Johanna Molascon, co-president of Active Minds. "But in reality they might already know."
The stigmas often cause people living with mental illness to feel persecuted and isolated.
"They feel blamed, discriminated against, it kinda creates a distant from the rest of the community and they might try and isolate themselves," Leblanc said.
The fact that people with mental illness do not communicate with their peers also adds to the stigma. This was something that the event was trying to disperse, and instead create an open conversation.
"I'd say a lot of people are afraid to even ask questions because they would appear ignorant about it," Molascon said. "But the person is mainly like, they're open about it. They're like yeah, ask me questions. Then you'll understand it and then you'll understand me a little bit better."
With more discussions, those managing a mental illness might not feel as isolated and instead seek help. On average 1,100 students on college campuses across the country commit suicide each year, Leblanc said.
Many of the deaths could have been prevented had the stigma not been present.
"When stigmas aren't used it's less bullying, less awkwardness, people don't think that they are getting picked on," fundraising chair Faith Page said. "It makes for a safer environment."
This article has been corrected. It formerly identified Faith Page as the treasurer, her correct position is fundraising chair.