Four hundred and forty six yards to the front of the green, a slight breeze left to right and the pin is located in the back left corner.
"This hole fits my game perfect," freshman phenom Kyle Brockmann said. "I blast my drive down the left center of the fairway, and with the dog leg right it gives me a simple 8-iron to the green."
Brockmann, who is from Fairport, N.Y., is one of three freshmen on this year's Oswego State golf team.
Combined with pure talent and a great mind for the game, Brockmann has led the Lakers to a second place finish, two third-place finishes and tied for the lowest individual score at the 14th Annual Oswego State Fall Invitational in late September.
"It's great to shoot low scores at your home course," Brockmann said. "But the motivation to do better is what drives my game."
Brockmann grew up playing golf near his home at Thousand Islands. Even though he never received any lessons his grandfather urged him play almost every day and try to hone his skills. When he felt he was good enough, Brockmann started to challenge the club pros.
"It's a very maturing experience," he said. "Playing with these older guys gave me experience and they gave me tips as well."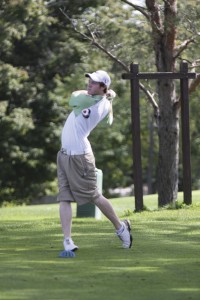 The tips he received must have really helped because while he was in high school he won the club championship.
"It was very smooth," Brockmann said about adjusting to Oswego Country Club. "I played there a few times before I came to Oswego, and now after literally playing 10 times a week I am pretty comfortable with the course."
Brockmann also attributes some of his success to 17-year head coach Mike Howard.
"Coach Howard is a great coach, he really does a great job working with the team." Brockmann said. "He walks with us on most holes and gives us stats and yardage for each hole."
As for his team, Brockmann recognizes that golf is a one-man sport but working together is also a crucial component for success.
"Golf is an individual game, that being said, as an individual I work with my teammates and they work with me. We have a solid system going on."
With only one tournament remaining in the fall season, The 10th Annual Hamilton Invitational, Brockmann looks to keep his focus through the winter and into the spring.
To maintain his high level of play, Brockmann usually takes a trip down south in March to play on the tough links courses.
Brockmann acknowledged that his game is not at 100 percent all year round, but the motivation to keep practicing makes him one of the best players in the league.
"My expectations are always high, he said. "I expect big things from myself and when im having an off day, I rely on my game to pull me through."