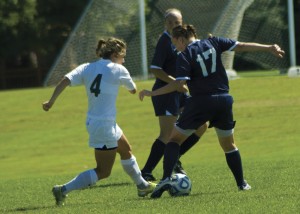 Despite the slow start to conference play following another strong non-conference showing, Oswego State junior forward Shelly Bateman continued to strive in her third season as a member of the women's soccer team.
Bateman, one of three captains for the Lakers this season, is second on the team in scoring with 16 points on five goals and six assists. Bateman's six assists this season leads the team.
Bateman made a splash during her freshman season, leading the team in points, goals and assists. In 17 games last season, Bateman recorded 37 points on 16 goals and five assists. She recorded five of the seven game-winning goals. Bateman's 16 goals were more than three times the amount of Rachel Allen, whose five goals were second on the team. Bateman earned Third Team All-SUNYAC honors.
In her sophomore season, Bateman took a step back when sophomore forward Nikki Liadka had a breakout season of her own as a freshman. During that year, Bateman recorded 14 points on six goals and two assists, while Liadka tallied 29 points on 13 goals and three assists.
Bateman and Liadka have combined for 15 goals and seven goals so far this season en route to a 7-4-0 overall record and a 1-3-0 conference record. Bateman's best statistical game came in a 4-1 victory over D'Youville College when she registered two goals and an assist.
In the Lakers' first conference victory of the season, Bateman tallied the game-winning goal on a shot from 20 yards out in a crucial 2-1 victory over SUNY Potsdam. Bateman has assisted on three game-winning goals this season.
While her statistics are impressive, Bateman is concerned more with winning than any personal achievements.
"I'll take a team win over individual statistics any day," Bateman said.