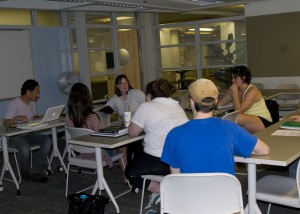 The English department has created an alternative plan for English majors wanting professional experience before leaving Oswego State.
A group of English professors designed the course, "Words in the World." Professors Donald Masterson, Karol Cooper, Bennet Schaber, Michael Murphy, Patricia Clark and Maureen Curtin were the professors responsible for the idea. The class is currently being accepted as an alternative to English 465, which is a capstone class to prepare students for graduate school.
Fewer students have been applying to graduate school directly out of college due to money issues and higher competition. It is crucial for students to gain certain skills in order to succeed in the workforce. Curtin and her co-workers were determined to assist students in preparing a class that involves hands-on experience, as part of a three-credit course. This is the third semester that "Words in the World" has been offered, and it has been a successful learning experience for all involved.
"It's a tough market but I had a former student contact me and say 'Wow, I'm so much more prepared after taking 'Words in the World,'" Curtin said. "I even had a student write a feature article for the American Rose society prior to a conference they held. That magazine is circulated to about 15,000 people."
The course begins with each student preparing a resume and cover letter, which are evaluated and corrected before being sent to various organizations. The students are then formally interviewed for the positions in which they will be working throughout the semester. Each student is also assigned a partner from an organization that assists them with learning throughout the semester.
Erica Geller, Director of Communication and Relations at Oswego Industries Inc. and Arc, believes the capstone course has been successful for both the student and the organization.
"Stephanie Crowley is the partner for our organization and she really enjoyed it," Geller said. "We really wanted to work with students to give them an opportunity and it essentially is good press for both, the student involved and our organization."
Crowley serves as the director of Communications and Community Relations for ARC of Oswego County and Oswego Industries, Inc. Geller also mentioned that it is different from an internship.
"The capstone class has the same benefits as an internship, although, the students can focus on their classes, rather than devoting all of their time to working at a specific organization," Geller said.
"Not only do we have students working hands-on with organizations, but we have them collaborating with graphic design students. This is essential for learning how to operate programs used in the everyday business world," Curtin said.
The course is designed to give constructive criticism on assignments and students are required to communicate with one another about how the actual workforce functions. For two-and-a-half hours every week, the classmates discuss what they are doing with their partners or their individual assignments.
The Green Party of Central New York, Oswego County Opportunities and the Red Cross are some of the many associations assisting Oswego State English students in this course.
"Sometimes I get this feeling of knowing that the class is one of the most valuable things the English department has to offer for those who seek professional experience," said April Schindler, a student enrolled in the class. "However, there are other excellent aspects, like meeting classmates in a small and intimate setting with two professors that are dedicated to the program."
When the student is assigned to their specific partner from an association, they write for them and communicate as much as possible throughout the week through phone calls, Skype of in person. Otherwise, if the student has transportation, they drive to the specific organization's headquarters.
"An internship is different," Curtin said. "These writers have more responsibility and work independently, opposed to going to the job everyday and just shadowing workers."
Oswego County Opportunities representative Linda added that while "Words In the World" is treated like an internship, it works much differently.
"An internship is more general, this is specific work that analyzes writing pieces," Eagan said.
She also added that Oswego County Opportunities participated in this course last year and were very pleased with the results.
"Having a student from the class here is like having another set of eyes. And this year we are extremely excited because we are going to be writing for the town paper," Eagan said.
She also mentioned that she has confidence with students from the capstone course.
The course is available to both juniors and seniors. Curtin has suggested this course to second semester juniors. In addition, this class has had non-English majors enter the course that more or less enjoyed it.
"We have English, literary, cinema and even education students in the class," Curtin said.
"Although I have just started, the atmosphere of the program and determination of the class is inspiring as well as challenging in a positive way that boosts my confidence and resume," Schindler said. "The class is designed around reaching one's aspirations and that is the class for me."