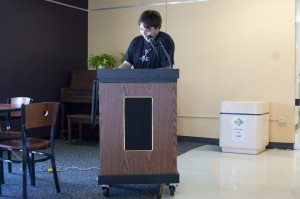 The lost accounts of timeless literature will be retained in a national celebration, honoring books that have been banned from schools across the country.
Oswego State celebrated Banned Books Week with an event on Sept. 26. Held nationally during the last week of September, this annual celebration expresses the significance of the First Amendment by emphasizing intellectual freedom and drawing attention to the dangers of censorship.
Led and hosted by communication studies professor Jason Zenor, students were instructed to read passages from books that have been banned at some point in the last 50 years. Readers were to choose a book that they found important and discuss why they thought it was controversial. Each student read a short excerpt ranging from two to three minutes long. The event was held at the Lake Effect Café in Penfield Library, from 9 a.m. to 10:30 a.m., while the afternoon gathering was held from 1:30 p.m. to 3 p.m. Zenor's Media Law classes attended each session.
"Most of these books have been banned because of profanity," Zenor said. Some of these are sexual in nature and often have this content throughout the text. It's up to the student to find it and determine why it was banned or challenged in the first place."
Barbara Shaffer helped organize the event in collaboration with Zenor. As a library administrator, she constructed a display that can be seen throughout the week on the first floor of Penfield Library. The display includes books that have held controversy in the past as well as the most popular books to be challenged. "Catcher in the Rye" continues to take heat for its profanity and sexual content. The "Harry Potter" series is also prevalent in debate for themes of the occult.
"In the past decade there have been several accounts of book burning parties, where these interest groups would get together and hold their own press conference and hold a giant book burning party for Harry Potter novels," Zenor said. "'Catcher in the Rye' and 'Harry Potter' are two books generally on children's reading lists."
It is said that over 400 books are challenged every year for explicit content, typically by groups of parents.
The reality of it is that there is no legal recourse in these actions. The First Amendment protects freedom of speech. These issues are more often aroused by teachers or libraries being pressured by parents or administration to have certain books taken off the shelves.
The resistance to book burning has been upheld at public institutions, but the avid participation in resistance is new for Oswego State University. Although there have been prior accounts of similar events in the past, this is only the second consecutive year that this particular event has been held on campus.
While the fact remains that some books have been targets, and successfully banned or restricted, the majority of attempts to ban books have failed. This is all in gratitude to people of the community such as teachers, librarians, and booksellers who call attention to the importance of First Amendment rights and the right to information in a free society.