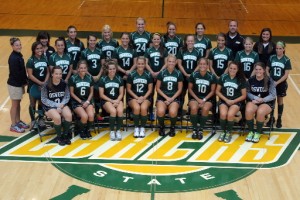 The Oswego State women's soccer team begins its fifth season under head coach Brian McGrane looking to solve the troubles they have experienced during conference play.
Last season the Lakers posted a 6-3 non-conference record, but struggled in conference, finishing ninth in the 10-team SUNYAC with a 1-7-1 record. Only SUNY Potsdam had a worse conference record at 1-8-0.
Despite the 7-10-1 overall record last season, Oswego State played in eight games decided by one goal. The Lakers lost their last six one-goal games after winning the first two, including a double-overtime victory over Nazareth College.
"We were in every single game, but one last year in conference," McGrane said. "I think we're a lot stronger in certain areas than we were last year. We brought in some very talented players and two goalies with us right now. "We have to realize we were in every game last year. We just have to find a different gear when it comes to the later stages of the game."
Last year's starting goalie, Christina Fregosi, was left off the 21-player roster in what McGrane called a "staff decision." Fregosi played roughly 76 percent of the time in net for the Lakers. Toby Klein and Kara Peck played the other 24 percent of the time. In 14 games played, Fregosi recorded a 6-7-1 record with a 1.56 goals against average and a .763 save percentage. Junior transfer Emily Varonier is expected to start the season in net for the Lakers.
Senior defender and co-captain Stephanie San Antonio leads a defense that finished ninth in SUNYAC in goals allowed (31) and goals against average (1.67). San Antonio is one of four senior defenders on the back line for the Lakers this season. There are eight seniors on this year's roster.
The offense is led by junior forward and co-captain Shelly Bateman and last year's leading scorer Nikki Liadka, who tallied 29 points on 13 goals and three assists. Liadka's 29 points co-led the SUNYAC with Brockport's Sarah Lawson. Her 1.61 points per game were second only to Geneseo's Anne Beinetti (1.64) and her 0.72 goals per game led SUNYAC. Bateman finished second on the team in scoring with 14 points (six goals, two assists). Liadka and Bateman were the only two players on the team with more than 10 points. Senior midfielder Kelly Adams' nine points were third on the team last season. The Lakers led SUNYAC with 2.22 goals per game despite being shutout four times.
This year's team features 10 new players, which includes six freshmen and four transfer students. Among the 10 new players, two are goalkeepers, three are defenders, two are midfielders and three will play both on offense and defense.
"We brought in a pretty good group of incoming players between freshmen and transfers, and a pretty big number of returning players," McGrane said. "Each of the transfers we've brought in has done really well and we expect them to help us tremendously."
McGrane believes that one freshman in particular, Bri Dolan, could put up numbers like Liadka did last season and Bateman did the year prior. Dolan, who was named to the 2010 All-CNY girls soccer team, tallied nine goals and two assists at Section III Fayetteville-Manlius High School during her senior year.
"(Dolan) can play anywhere on the field," McGrane said. "She is without doubt one of our better players if not the focal point of what we're trying to do."
The storyline over the past few seasons have been the same for the Lakers: start strong and finish poorly. The Lakers started 5-3 in 2010, 3-0 in 2009 and 5-3 in 2008. Despite the strong starts, the Lakers have not finished with a winning record since 2000.
The Laker schedule will again feature teams who Oswego State has had continued success against as well as a few teams who they have struggled tremendously against Oswego State plays two non-conference matches against SUNYIT and Clarkson University, who the Lakers have dominated during their history. The Lakers are 17-0-0 against SUNYIT and 22-2-0 against Clarkson. Oswego State hosts SUNYIT on Thursday, Sept. 15 and finish the regular season at Clarkson on Tuesday, Oct. 25. SUNY Cortland and SUNY Geneseo are also on the schedule this year, as they are every year for conference play. The Lakers are a combined 3-43-3 against the two teams, including a 1-20-0 record against Cortland. Oswego State has not defeated Cortland in six years and has not defeated Geneseo in 10 years.
"For whatever reason (Cortland) is a team that just hearing the name our girls get a little intimidated and if you're intimidated in any sport you've pretty much lost," McGrane said. "Every year we have a long talk about the teams we're trying to compete with and beat and Cortland is certainly at the top of that."
Despite the difficult conference schedule, McGrane still believes that the team has enough talent to finish in the top four of SUNYAC and qualify for a spot in the postseason. The Lakers have not finished at least .500 in conference since going 5-5 in 2005.
"I still think we're going to be intimidated at times, which is fine early in the year, but come later in the year we'll be OK," McGrane said. "Do I think we can finish first? Absolutely, but I could also see us finishing third or fourth or fifth."
The Lakers are already off to a fast start in 2011, winning both of their matches in the Alfred Tournament at Alfred University over the weekend. Oswego State defeated Juniata College, 3-2, on Saturday before defeating host Alfred, 4-0, on Sunday. Liadka and Dolan earned All-Tournament nods for their play on the field over the weekend. Liadka netted five goals, including a hat trick against Alfred, while Dolan registered eight shots on goal in two games for the Lakers. Bateman and junior forward Kassie Kleine also scored goals for Oswego State over the weekend.
The Lakers continue their five-game homestand on Friday, Sept. 9, when they host D'Youville College at Laker Field.