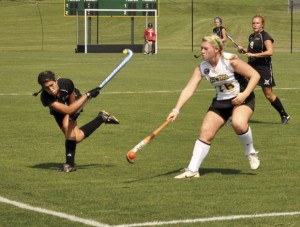 The Oswego State field hockey team evened their record at 1-1 after defeating Houghton College, 2-0, on Saturday afternoon at South Athletic Field.
The Lakers used their bench to win both their home opener and their first win of the season. The Highlanders had only two bench players, and on a hot and humid day, the Lakers were able to use their deep bench to their advantage.
Scoring opportunities were slim throughout the first half, as both defensives did their part to keep the game scoreless. However, the Lakers became more aggressive as the half progressed, outshooting the Highlanders 6-2 by halftime.
Senior forward Katie Mazuchoswski and sophomore forward Ashley Fiorille were both close to breaking the scoreless tie on shots that went just wide right of the net.
The Lakers broke through in the 39th minute, as senior forward Kelly Collins jumped on a loose ball and beat Houghton goalie Hillery Duman for the game's first goal.
Less than two minutes later, sophomore defender Ashley Collins was awarded a penalty stroke after a skirmish in front of the Houghton net. Collins faked out the goalie to give the Lakers a commanding 2-0 lead.
From that point on, the Lakers' defense took center stage. Oswego State held possession for a majority of the second half and were able to keep the Highlanders' offense at bay, allowing just six shots.
Senior goalie Julie Janusz did her part in earning the shutout.
"I feel like it's my job not to allow any goals; if they don't score they can't win, and I know my teammates appreciate it when we only need a few goals to get a victory," Janusz said.
Oswego State outshot Houghton 16-6 and owned an 11-6 edge in penalty corners.
"It wasn't the prettiest game, even our girls will tell you that, but it's all about getting the win and improving each game of the season," head coach Brandi Lusk said.
The Lakers lost to Utica College, 1-0, on Wednesday to drop to 1-2 overall.
Oswego State will travel to Rochester, N.Y., on Saturday, Sept. 10, to face Nazareth College in the Nazareth Tournament.