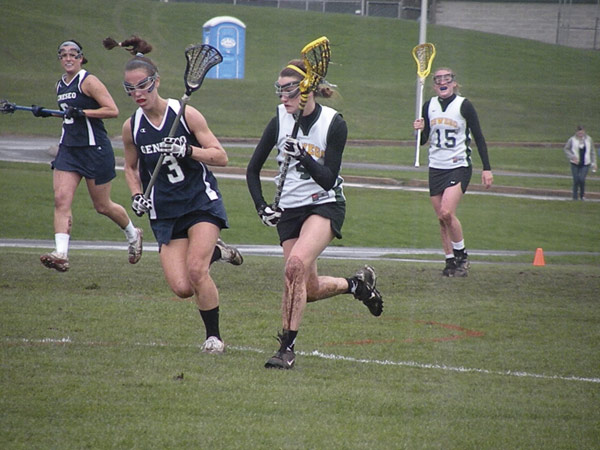 "The Oswego State women's lacrosse team was eliminated from postseason contention following an 18-7 conference loss at the hands of SUNY Geneseo on Tuesday at Laker Field.
"The game was close for the first 19 minutes, as junior attacker Erin Cumming's goal with 10:54 remaining in the first half cut the Knights' two-goal advantage to a 5-4 lead. Unfortunately for the Lakers (7-5, 3-4 SUNYAC), that would be the last goal they scored until 20:30 remaining in the game. During that drought, Geneseo (11-2, 5-2 SUNYAC) would go on a 10-goal streak.
"Freshman attacker Caroline Buonocore began the rally with a goal off a pass from sophomore midfielder Rachel Petrone. Buonocore scored three of the Knights' goals during the streak. She ended the game with a game-high six goals, giving her a conference-best 64 on the season.
"Also contributing with multiple goals during Geneseo's scoring streak was freshman midfielder Emily Haggerty, who scored twice. Haggerty also recorded a game-high four assists.
"Freshman midfielder/attacker Corrine Marsh ended the Knights' streak with an unassisted goal to cut the lead to 15-5. Geneseo scored three more times before Oswego State added two goals prior to the end of the game.
"Lakers head coach Brandi Ostrander said knowing a berth in the playoffs was on the line may have affected her team.
""It was a game where we put a lot of pressure on ourselves," Ostrander said. "If we beat Geneseo we would have made it into the playoffs, so it was a huge game for us."
"Cummings and fellow junior attacker Rachael Raffa each scored a team-high two goals for Oswego State. Raffa has a team-leading 36 goals on the season and Cummings is second on the team with 25.
"The Lakers end their season with a non-conference away game against Elmira College on Thursday and a home game against SUNY Fredonia at 1 p.m. on Saturday.
""Those should be two more wins for us, and we can finish this season 9-5," Ostrander said. "No, we didn't make the playoffs, but I still consider that a successful season."