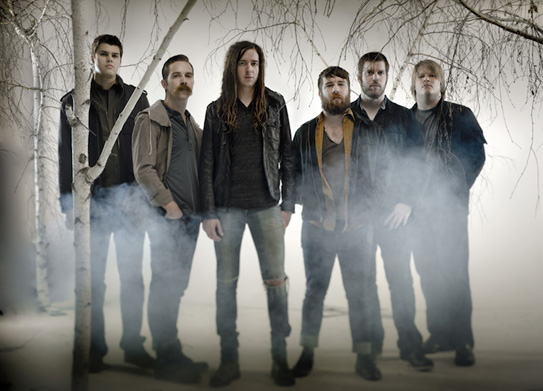 After a band loses its entire original cast, they usually take creative liberties with their sound, much to the dismay of the original lineup's fans.
Such is the case with "Disambiguation," the seventh studio album from Christian metalcore sextet Underoath. The album continues the progression of the band toward a heavier, darker metal sound, but ultimately fails to distinguish itself or to pull off the new sound the band is trying to capture.
The last original member, drummer and clean vocalist Aaron Gillespie, left the band in April replaced on drums by Daniel Davison, who brought with him a slower pace to the drums, but shines in complex time signatures. Davison is a strong contrast to Gillespie, who was previously the driving force behind the band's tempo and sound.
Rhythm guitarist Tim McTague takes over the clean vocals from Gillespie, lending a softer voice that sounds almost haunting at times, echoing through choruses.
Anyone who has listened to past releases by Underoath will immediately recognize the stylistic changes made on this album, and that is in no small part due to the departure of Gillespie, who had a hand in writing more than just the drums and lyrics; he was the leading creative influence of a band that went through eight lineup changes over a 13-year-period.
Tracks like "Catch Myself Catching Myself" and "In Division" sorely miss Gillespie's influence, as they tend to get lost in a mishmash of distortion without any certain direction or distinguishable characteristics.
Vocalist Spencer Chamberlain returns even stronger on this release, his screams sounding deeper and more intense than 2008's "Lost in the Sound of Separation." Underoath upped the amount of screaming on this album and only used McTague's clean vocals sparingly, resulting in a heavier sound.
One of the album's only standout tracks, "Illuminator," varies the tempo and alternates Chamberlain's deep, powerful screams with McTague's tortured clean vocals. The song gives off a doomed feeling and continues the dark vibe that is prevalent throughout the album. It's an interesting direction to take for a Christian metal band, but the band pulls off the new sound without any major style conflicts.
Overall, it feels different from anything Underoath has put out. Musically, the guitars and drum parts are the most challenging and complex they have ever been. Bringing in Davison on the drums has helped the band delve into different time signatures and incorporate more progressive elements into their music. The tone of the album lends itself beautifully to the down-tuned riffing and minor key parts on the keyboards.
However, "Disambiguation" just doesn't feel like an Underoath release. There are no pop-infused, catchy choruses in the vein of Gillespie, and, instead, the album borders, at times, on hardcore-influenced doom metal. On this front, it takes an even bigger leap away from Underoath's core sound, which is what made them popular. Without Gillespie, the band has become increasingly unnoticeable. The record suffers in terms of songwriting and chorus structure from Gillespie's void.
Ultimately, Underoath does a great job putting out an album that has front-to-back listening appeal with very little throwaway songs. There isn't much in terms of standout tracks or staying power on the album, but it marks an improvement in musicianship and incorporating a variety of influences in their music.
Though it's not a career-defining album, "Disambiguation" is a more than competent addition to Underoath's growing catalogue. It's not a flashy record, and it may take a few play-throughs to really grasp what Underoath was trying to put out, but it's an overall solid release for the group that should be picked up by old and new fans alike.