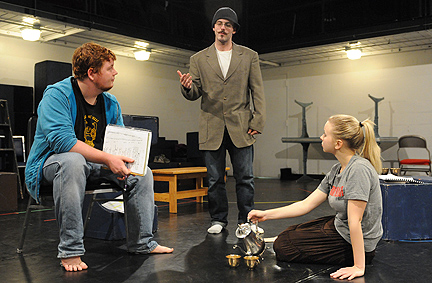 Set in 1910 Germany, Steve Martin's adaptation of "The Underpants," by Carl Sternheim, is a farce destined to cause laughter.
The play opens after Louise Maske's bloomers fall during The King's parade. This gains the attention of a poet, Versati, and a barber, Cohen, who inevitably fall for Louise. After the two men rent rooms in the apartment of Louise and her husband, Theo, hilarity ensues and the two gentlemen compete to make advances on Louise.
"'The Underpants' is an incredibly super funny, wacky, zany play," said Director Aaron Londraville, a senior with a dual major in theatre and cinema and screen studies.
The entire play is directed, designed and acted by students. The cast includes Jessica Quindlen as Louise and Knate Roy as Theo. The two rival lovers are played by Dylan Duffy (Versati) and Jacob Luria (Cohen). Other members of the cast include Olivia Zeis as the Maske's nosy neighbor, Gerturde, Daniel Distasio as Klinglehoff and Samuel-Graeme Austin as The King.
The production team includes Sarah Sterling, assistant director, Ariel Marcus, assistant costume director, and Jamie Ruggio, lighting designer. Faculty assisting with the performance include Tim Baumgartner (props, lighting, set), Kitty Macey (costumes) and Steven Shull (sound).
The play will be presented in the Lab Theatre in the basement of Tyler Hall, which seats around 100 viewers. The preview of the play will take place on Tuesday Nov. 16 at 8 p.m. and tickets are $5.
Evening performances will take place from Wednesday, Nov. 17, through Sunday, Nov. 20, at 8 p.m. and there will be a matinee at 2 p.m. on Sunday, Nov. 21, at 2 p.m. Performance tickets are $7 for Oswego State students, $12 for faculty, staff, seniors and non-Oswego State students. Tickets for the general public are $15.