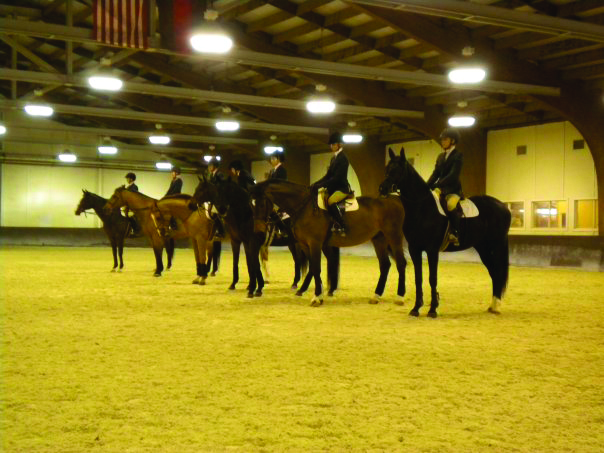 "Equestrian is a sport of elegance, poise, harmony and obedience. At the same time, equestrian is also a form of art, skill, speed and flexibility. It requires a strong bond between rider and horse as they both share responsibility for one another's success. Every year around this time the best horseback riders in the world meet in one location for two weeks in a competition to prove which country reigns supreme in horse racing. This year, the best horseback riders will convene at Kentucky Horse Park in Lexington, Ky. from Sept. 25-Oct. 10 in what will be the first World Equestrian Games to be held on American soil.
"The World Equestrian Games, which are considered to be the Olympics of horseback riding, are held every four years in between the Summer and Winter Olympics. Stockholm, Sweden hosted the first ever World Equestrian Games in 1990 and have since been held in The Hague, Netherlands; Rome, Italy; Jerez, Spain; and Aachen, Germany.
"The 2010 World Equestrian Games feature one of the 12 Oswego State Equestrian horses, Peppy, who was donated to the school from Syracuse last spring. Peppy is a stallion quarter horse that is expected to be used in the reining aspect of the games by the Poland team. The stallion is typically ridden by the more experienced riders because of his level of training.
""He's just a really well-trained horse and he's great to have for our program because he's a reiner and reining is very advanced level," said senior Meghan Milewski, president of the Equestrian Club at Oswego State.
"Reigning is just one of eight disciplines featured in this year's World Equestrian Games. The other seven equestrian sports that will be featured this year are: dressage, driving, endurance, eventing, jumping, para dressage and vaulting. This year's event is the first to include para dressage, the newest discipline of the Federation Equestre Internationale (FEI), the European-based governing body of the World Equestrian Games.
"Dressage (meaning "training" in French) is a combination of movements and footwork that is judged on the horse's calmness, suppleness, looseness and flexibility as well as confidence, attentiveness and keenness.
"Driving is broken down into three competitions—driven dressage, marathon and obstacle cones driving—in which the horseback rider rides a team of four horses. The driven dressage competition are individual races all on the same track where riders are judged on ease of movements, accuracy style and the general control of the horses. The marathon is a racing competition broken into three sections where the maximum allowed distance is 18km. The final section of the marathon contains eight marked obstacles. Riders are judged on fitness, stamina, and training of the horse and the driving skill, judgment of pace and general horsemanship of the rider. The obstacle cones driving aspect force riders to maneuver their way through a twisting course of cones set close together. Riders are penalized if balls placed on top of the cones are knocked off during the run.
"The endurance discipline is a race against the clock that spans a distance of 100 miles with at least five required stops for veterinarians to check the horse's fitness to see if it can continue.
"Eventing is a three day test consisting of dressage, cross-country and jumping. Dressage takes place on day one, followed by cross-country on day two and jumping on day three. The cross-country test requires a horseback rider to complete a series of jumps that may include jumps into water, over ditches, up and down banks and over large timbers.
"Jumping, part of eventing and also its own discipline, is intended to showcase the horse's freedom, energy skill, speed and obedience in jumping as well as the rider's horsemanship.
"Para dressage gives riders with disabilities to compete in high-performance equestrian sport alongside able-bodied riders from all parts of the world.
"Reining, Peppy's specialty, requires riders to run one of several approved patterns that includes small slow circles, large fast circles, flying lead changes, roll backs, 360 degree spins done in place, back ups and sliding stops.
"The final discipline, vaulting, is considered to be the most artistic of the equestrian sports. Vaulters compete regionally, nationally and worldwide individually, in pairs and in teams. Vaulting is held over two rounds, the first being compulsory and the second round being freestyle. Compulsory vaulters must perform seven designated exercises that are scored on a criterion from one to 10. Freestyle vaulters perform to music, completing mounts and dismounts, shoulder stands and handstands on the horse and carrying or lifting another vaulter.
"Dressage, driving, endurance, eventing, jumping and para dressage fall under the English-style of horseback riding and reining and vaulting are considered Western-style horseback riding. English-style equestrian features a flat English saddle, which allow for the horse to freely move in the optimum manner for a given task by the rider. Traditional English-style clothing consists of boots, breeches, shirt and tie, hat, cap, or equestrian helmet and jacket. Western-style horseback riding has distinctive qualities that set it apart from English-style horseback riding.
""Western is more 'cowboy' themed," Milewski said. "It's the big saddle with the horn, a cowboy hat, sparkly shirts, chaps and stage makeup."
"Western-style riders are only allowed to have one hand on the reins at all times.
"The 2010 World Equestrian Games begin at 9:00 a.m. on Sept. 25 with the reining competition and concludes with vaulting freestyle at 11:00 a.m. on Oct. 10.