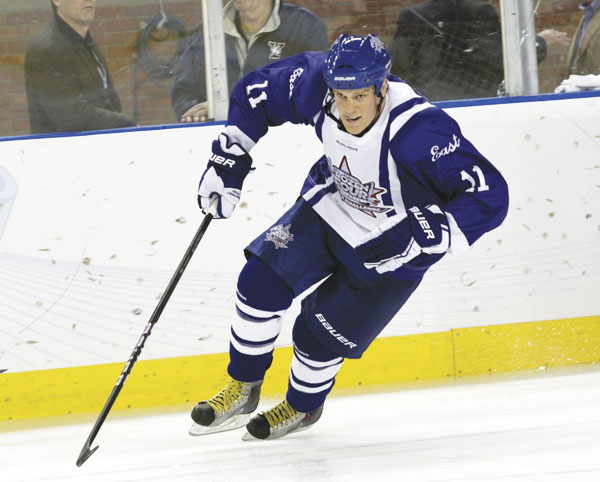 For the past four years senior forward and assistant captain Neil Musselwhite of the Oswego State men's ice hockey team has dazzled teammates, coaches, opponents and fans with his skating ability.
Musselwhite put his skills to the test last Friday at the 2010 Frozen Four Skills Competition at Ford Field in Detroit, Mich. in the fastest skater and hardest shot competitions.
Musselwhite, the only Division III player voted to the skills competition, won first place in the fastest skater competition with a record time of 14.3 seconds. Musselwhite edged out Minnesota State-Mankato's Zach Harrison by two-tenths of a second to win the competition.
"It was a great experience," Musselwhite said. "The atmosphere was incredible. I wanted to be in contention and make a good impression and when I looked up and saw my time I was pretty relieved that I had a good performance."
Musselwhite placed second in the hardest shot competition, registering his shot at 91.8 mph. Massachusetts-Lowell's Kory Falite won the competition with a 92.9 mph shot.
The 2010 Frozen Four Skills Competition marked the end of Musselwhite's collegiate career, a career that will be remembered by his fellow teammates, coaches and fans.
"He's come a long way," head coach Ed Gosek said. "He was fast as a freshman but he's worked extremely hard to get to where he is now. He's committed to the weight room and committed to the off-ice work."
Musselwhite grew up in Burlington, Ont. where he began playing hockey at a young age. He also experimented with soccer and lacrosse, but shifted his focus on hockey, saying that it was the sport that gave him the most joy.
Like most collegiate hockey players, Musselwhite spent time playing in the Ontario Provincial Junior Hockey League (OPJHL). In four years with the OPJHL, Musselwhite played for the Burlington Cougars from 2002-04 and the Hamilton Red Wings from 2004-06. For his career in the OPJHL, Musselwhite played in 125 games, accumulating 113 points on 56 goals and 57 assists. Musselwhite said that playing in the OPJHL taught him discipline because players in the league are serious about the game of hockey and the competition is far above that of minor hockey.
Gosek and the Laker staff began recruiting Musselwhite prior to his final season in the OPJHL. The Lakers offered him a spot on the roster prior to the season but Musselwhite decided to play his final year to see if he could receive any Division I offers. No Division I teams bit and Musselwhite had to choose a Division III school. During a weekend recruitment trip which was supposed to include both Oswego State and SUNY Plattsburgh, Musselwhite and his family were so impressed by the Oswego State campus that they decided right then and there that he was going to commit to play for the Lakers. Musselwhite said that the newly built Campus Center Ice Arena and his talk with Gosek were major factors in his decision.
"I've never had a coach before where you can go to him with anything and talk to him about anything," Musselwhite said. "I think that's a strong quality he has with his players."
Musselwhite's favorite memory with the team came during his freshman year where the Lakers won the 2007 NCAA Division III National Championship, their first in the college's history. Although Musselwhite didn't play a pivotal role that season (14 points in 28 games), he was happier with the fact that the team won.
"He's unselfish," Gosek said. "It's not about points, it's never been about points with him; it's about the success of the team. He accepted any role that he had. He didn't pout when he wasn't on the power play. When he was a fourth-line guy he didn't pout. When he wasn't put [on the ice] in crucial moments he didn't complain."
Musselwhite worked hard during each offseason, improving his speed, strength and knowledge of the game. He was nominated as an assistant captain prior to the beginning of this season for his leadership abilities on and off the ice.
"This has been my favorite year of all," Musselwhite said. "Obviously the national championship year was exciting, but the group of guys we had this year was such a close-knit group and I've had a lot of fun playing with these guys."
Musselwhite's final season with the Lakers was his best statistically. In 29 games this season, Musselwhite registered 36 points on 23 points and 13 assists. Prior to his senior season, Musselwhite had totaled 40 points on 21 goals and 19 assists in 79 games.
"This year was his breakout year as far as numbers, but he's always been an important part of our team with the power play and penalty kill," Gosek said. "His ability to get shorthanded goals was a big part of our season this year."
Musselwhite netted six of the team's seven shorthanded goals this season, totaling 11 shorthanded goals for his career.
Set to graduate in May, Musselwhite will miss the winning tradition at Oswego State and will also miss the passion that the fans brought to each and every game.
"The fan support in this community is tremendous," Musselwhite said. "Nothing against other teams, but sometimes playing on the road it's hard to get into the games because the attendance is so low. But as soon as you step into our rink, you know the atmosphere is going to be electric."
Musselwhite hopes to further his hockey career either in North America or in Europe. If his plans to continue playing hockey fizzle, Musselwhite, an accounting major, will return home to begin his career as an accountant.
"He's the ultimate team player," Gosek said. "He's about the team being successful, not about his personal accomplishments."