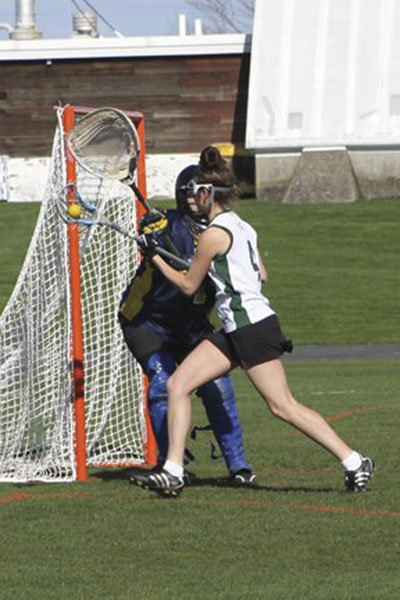 The Oswego State women's lacrosse team came out firing on all cylinders as they trounced visiting Cazenovia, 28-3, on Wednesday at Laker Field.
The Lakers set a new single-game scoring record with 28 goals and 45 points in the lopsided victory. 15 different Lakers tallied goals, led by senior attacker Marisa Audley who netted five goals and added an assist.
"My second string went in today and played very well," coach Brandi Ostrander said. "Everybody on my team contributed to this win and they did very well."
Oswego State (5-4) won its third straight game while the Wildcats (6-6) saw their four-game winning streak come to an end. The Lakers jumped out to a 16-1 halftime lead behind Audley's five first-half goals.
Oswego State junior midfielder Bri Borrow and senior midfielder Jessica Zenzel each tallied five points. Borrow posted two goals and three assists, while Zenzel tacked on one goal and four assists. Sophomore attacker Kristen Darcy and junior attackers Maria Martusewicz and Amanda Hecox finished the game with three goals each. Sophomore attackers Erin Cummings and Kelly Collins each added two goals.
Freshman goalie Ashlee Engel was a force in net, recording 10 saves on the day, while allowing just three goals.
Coach Ostrander attributes the performance to a new gritty style of play, which led to an increased tenacity.
"We started a new defensive style of play yesterday at practice as well as a different type of ride, and we did it very well," Ostrander said. "We tried to switch more to a zone and be more aggressive."
The Laker's stingy 28-goal output topped the previous mark of 26 goals scored against SUNY Morrisville on March 29, 2007, which was also when Oswego State established the old mark for points in a game at 42.
Oswego State will host a pair of SUNYAC games this weekend starting with SUNY Brockport on Friday at 4 p.m., followed by SUNY Geneseo on Saturday at 1 p.m.