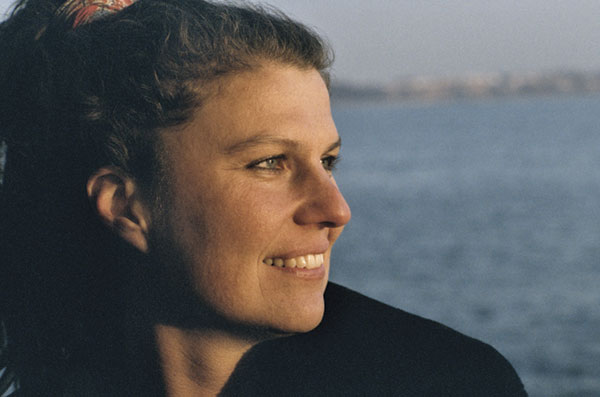 The students and faculty at Oswego State welcomed award-winning filmmaker, Katja Esson, this past week, and on Tuesday, March 23, they received the rare opportunity to view a short screening of parts of her latest unfinished work. Esson brimmed with enthusiasm as she discussed her life and showed parts of "Poetry of Resilience," though she warned the audience that it was still a work-in-progress.
Esson was born and raised in Germany where she developed a passion for both theatre and film. She came to the U.S. to attend college at the University of Miami. When she completed her education, she returned to Germany to launch her career. Amanda Dirosa, a Public Relations intern for ARTSwego, said that it was not until Esson moved back to the U.S. and took residency in New York City that she truly found her inspiration.
"There were stories around every corner, and she just bought a camera," Dirosa said.
Her method worked. Since then, she has completed numerous films, documentaries and commercials, and has been aired on HBO and PBS. Her documentary "Ferry Tales" portrayed the on-goings of a Stanton Island Ferry and was nominated for an Academy Award. Other films such as "Hole in the Sky" and "A Season of Madness" became popular hits as well.
Esson's "Poetry of Resilience" is supported by the National Endowment for the Arts and a Simon's Fellowship for the Humanities. The documentary began with a meeting of 13 poets in 2004 who gathered to share their tales of the human atrocities that they endured during earlier in their lifetime.
According to Esson, the film centers around the principal question: how strong is the human spirit? Esson followed seven of the poets, all of whom had survived some catastrophe: the Holocaust, genocide, Hiroshima, etc. For the poets, the film was a chance for them to tell their stories to the world and be a source of inspiration, Esson said. Majid Naficy, an Iranian refugee and one of the poets in the film, seemed profoundly willing to share his story.
"I want to turn this death into life," Naficy wrote in a poem.
The film contained many shocking images that truly drove home a strong sense of what these survivors had been through. Esson followed the poets through their journey from their current life and back to their homeland. One of the poets went with Esson back to Rwanda to show that the genocide was still occurring there, as well as to speak out against it. In a powerful scene during this journey, the camera focused on a room full of dead skeletons against a background of silence.
Such haunting images are only shadows of those that dwell inside the heads of these poets, and they have become the central basis of creativity for much of their poetry, especially for Naficy.
"Artistic creativity is the only thing left to you as a survivor," Naficy said.
Esson's presentation was the third of a four-part series called "Arts, Identity and Diaspora" presented by Oswego State's ARTSwego program. While poet Li Young-Lee came to Oswego State earlier in the month for the series, he also happens to be what Esson describes as "the heart of [her] film." Lee's poetry ranges from his portrayal of his escape from Indonesia to the inspiration he finds in the simple moments of life.
The film will spend approximately five more months in the editing room before the finished product will be complete. The poets have yet to see any part of what Esson put together. Esson said that this experience has brought her a deeper understanding not only about poetry, but about the world around her.
"What I love about documentaries is that you get to find worlds…and go on incredible journeys of self-discovery," Esson said.