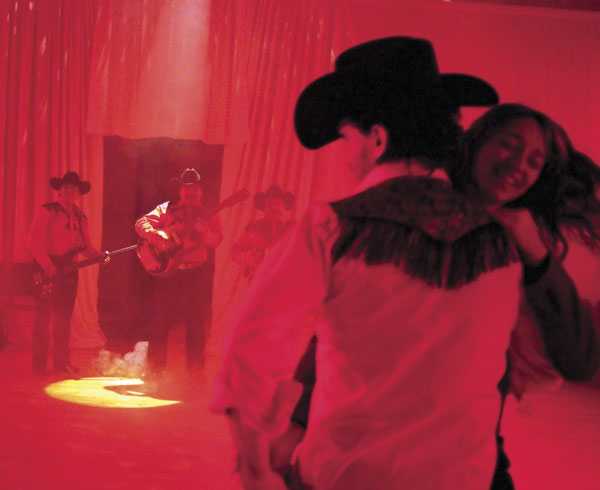 The illegal immigration debate has been in the news for years as more Mexican immigrants come to the United States looking for work. It is estimated that there is around 12 million undocumented people in the United States. On March 30 and 31 the Oswego community will be able to see a unique perspective of the on-going debate with Alex Escalante's "Clandestino."
Escalante is a choreographer and performer from Brooklyn whose work focuses on current sociopolitical issues. His work as been featured all over the country and the world, including Mexico and the Czech Republic. In addition, he has received numerous honors including a LEXDance Under the Radar 2007 residency and a Best of 2008 performance from TONY. He also works as a photographer and in New York City public schools as a teaching artist.
Escalante's latest piece, "Clandestino," was inspired by the immigration rallies in spring 2006. Out of that, Escalante created the piece which explores "the struggle to maintain one's culture regardless of borders, boundaries, passports or green cards." As he developed the show, Escalante did extensive research on the immigration debate during 2006 to 2008. In addition, he explored his feelings and views on the issue as a son of Mexican immigrants.
Escalante utilized his parent's story and their decision to come to America in "Clandestino." Their story is ultimately used as a way to look at the wider investigation of illegal immigration. These include many of the issues associated with illegal immigration including border fences, mass deportation, border crossing death and the criminalization of undocumented laborers.
"Clandestino" incorporates dance, film and music, creating a distinct theatre experience. All the elements emphasize the show's theme, featuring film shot in border towns, San Diego and Tijuana, contemporary popular Mexican music performed live by Los Immigrantes del Sur and Mexican social dances.
"I find it to be limiting to only express myself through one medium" Escalante said.
Another unique aspect of the show is that the audience is sitting on the stage with the performers, allowing the audience to be involved in the show more directly.
"Having them in the performance space makes them part of [it]" Escalante explained. "It allows them to experience and engage in a way that isn't possible when you sit behind the fourth wall."
There are even points during the show when audience members can join in the dancing.
After the audience leaves this unique and provoking show, Escalante hopes that they will be able to come to terms on their views on illegal immigration.
In addition to the two main performances, Escalante is also doing a College Hour program, where he will work with students and discuss the issues in the show. In addition, he wants to allow the students to "express their views on the subject matter."
The show is the fourth installment in ARTSwego's "Arts, Identity and Diaspora" series focusing on immigration and diaspora.
"Clandestino" will be in Waterman Theatre in Tyler Hall on March 30 and 31 at 7:30 p.m. Tickets are $5 for Oswego State students, $10 for seniors and children and $15 for adults.