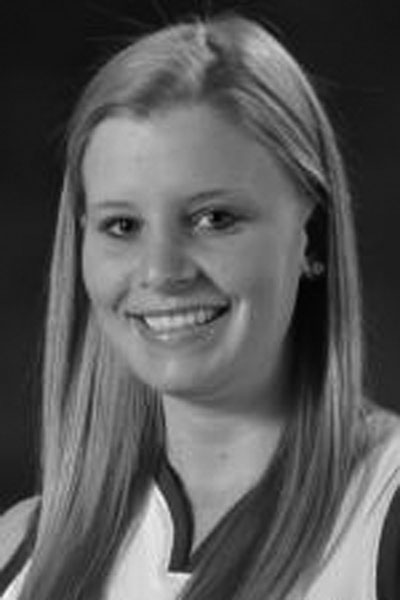 It's 7 a.m., and while the students of Oswego State are sleeping in their dorm rooms, an alarm clock goes off somewhere in Onondaga Hall. It's time for junior women's lacrosse captain Amanda Hecox to start her week.
Before the day is over she will go to the gym, attend classes, go to meetings, go to work, attend practice and finish her homework before finally going to bed for the night. This is just a regular day in Hecox's life. She takes it all in stride as she pursues her biology degree.
Now that her morning workout is over, she goes to her classes. Being a biology major, she has to learn an immense amount of material while attending labs through the week.
A year ago, Hecox went down with a seasoning-ending injury, breaking her foot for the second time in her career.
"I have gone through a few injuries during my athletic career that have only made me stronger," Hecox said. "I broke my foot when I was 12 and then again this past lacrosse season. These injuries have helped me realize how important the game of lacrosse is and only motivates me to do better."
Last year, she spent the entire season playing the most frustrating position on the field: spectator. Although it can be exasperating at times, Hecox embraced the experience.
"When I broke my foot last year I had the opportunity to act as one of the coaches on the sideline," Hecox said. "I was able to gain a different perspective of the game on lacrosse coming from a coach. I enjoyed this, but really looked forward to being better for this year."
Ever since the injury, she has been more focused than ever to become the best player she can be.
Class is now over, now she has to rush to the dining hall for lunch before she has to attend yet another class. After this class, she'll have to go to a meeting for work.
Between classes, workouts and practice, Hecox also works as a desk attendant at Oneida Hall. Given her hectic schedule, she works various hours of the day and sometimes works Thursday night from 11-3 a.m. If she is lucky, maybe work will be slow and she will get to sneak a look at her biology notes before an upcoming test.
Above all, Hecox realizes that there is a life after college lacrosse, and she is very focused on being successful in areas off the field.
"I would say that over the past two years here at Oswego [State] I have really learned how to manage my time well and dedicate enough time to lacrosse," Hecox said. "When I am working at something I love doing, I try even harder and maintain everything else at the same time also. I have the ability to accomplish other things in college and not just lacrosse."
After an hour-long work meeting, she can finally play lacrosse. In her first season as captain, Hecox feels she has a lot to prove. She has high hopes for her team.
"We have a lot of talent this year and I can see us making it to the final four in SUNYAC's."
She feels they will get there because of their strong bond and chemistry on the field.
As she counts down the days until she can return to the field and lead her team, she thinks about her influences.
"My athletic influences are my coach, teammates and alumni who have made a difference in the lacrosse program here at Oswego," Hecox said. "I really look up to them because they all have different ways to help keep me motivated."
Practice is over, and after a long day of running around campus she can finally rest in her bed. Tomorrow she'll have to do it all again, and the next day, and the next. After 15 hours of class, 10 hours of work, and countless hours of homework, It all becomes worth it on game day, when she can play the sport she loves.