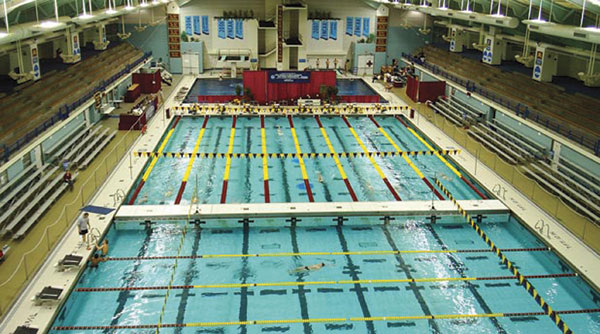 Three members of the Oswego State diving team made a splash last week at the NCAA Division III Swimming and Diving Championships.
Shawn Merlin, Eric Messina and women's captain Eileen McMahon all participated in the championships held in Minneapolis, Minn.
"It's a lot of fun, but it's really relaxed," Messina said. "It's a surprisingly calm atmosphere and everyone is really friendly."
Although the divers spent plenty of time preparing for the meet, they also kept a calm demeanor.
"We made it this far, lets have fun, and do our best" was McMahon's motto going into it.
Merlin took seventh place in the 1-meter with 476.45 points and ninth place with 480.50 points in the 3-meter. Merlin also received an All-America award, the third of his career.
Messina placed fourth in both the 1-meter springboard with 490.60 points and the 3-meter springboard with a total of 541.95 points. Messina's performance earned him a second All-America honor.
Messina's biggest accomplishment this season was being crowned conference champion in the 3-meter.
"I worked really hard this year and got two trophies," Messina said.
However, next year his biggest goal is winning at the NCAA meet.
Messina and Merlin had a combined 51 points, bringing them to a program-best 18th place finish.
McMahon hit a school milestone as the first woman in Oswego State history to make it to the NCAA Championship.
"It was exciting to be the first," McMahon said. "But I didn't even realize it until after it happened."
She took 10th place with 395.15 points on the 1-meter springboard and 14th place with a total of 412.60 points in the 3-meter springboard competition. McMahon received honorable mention All-America recognition for her performance.
Participating in the championship was the highlight of McMahon's diving career.
"Making this meet was awesome because I kept qualifying, but I never made the meet," she said.
McMahonwill be graduating this spring, but she would like to coach or help out somewhere nearby. She would also like to watch a few meets at Oswego State and help out with the team.
Despite all of their personal accomplishments, the divers claim that the most exciting part of the meet was when coach John Moore won the National Coach of the Year award.
"He's deserved it for so long," McMahon said.
"He got voted to be the best amongst his peers," Messina said of Moore. "It definitely meant a lot to him."