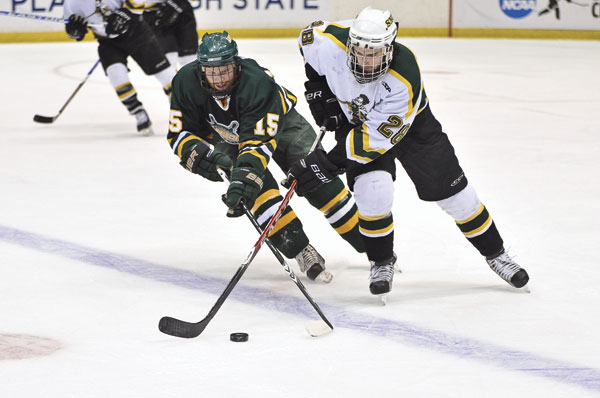 LAKE PLACID, N.Y.— All good things eventually come to an end.
The second-ranked Oswego State men's ice hockey team fell to the third-ranked St. Norbert Knights of DePere, Wisc. in an NCAA Division III semifinal matchup in Lake Placid last Saturday, 4-3.
"We had an unbelievable season," head coach Ed Gosek said at a postgame press conference. "I don't want this loss to diminish what they accomplished."
St. Norbert lit the lamp first on an unassisted goal from Swedish sophomore forward Johan Ryd with just under two minutes left in the first period. The scoring chance came after a Laker turnover in their defensive zone.
"You can't give a good team the opportunities that we did," Gosek said. "We have no one to blame about those mistakes but ourselves."
The Lakers got on the board late in the second period with a goal from senior assistant captain Neil Musselwhite, which tied the score at one. Junior forward Justin Fox had the assist.
"Justin [Fox] gave me a pass," Musselwhite said. "I closed my eyes and just let it go."
The third period saw five lead changes. A back and forth battle between the schools ended with a game-winning St. Norbert goal with just over thirty seconds left in regulation.
Justin Fox and freshman forward Jon Whitelaw tallied the two Laker goals in the third period.
The Lakers ended the season with a 26-3-0 overall record.
"It was a great culmination to four years," Musselwhite said. "I've never played on a closer team with a better group of guys."