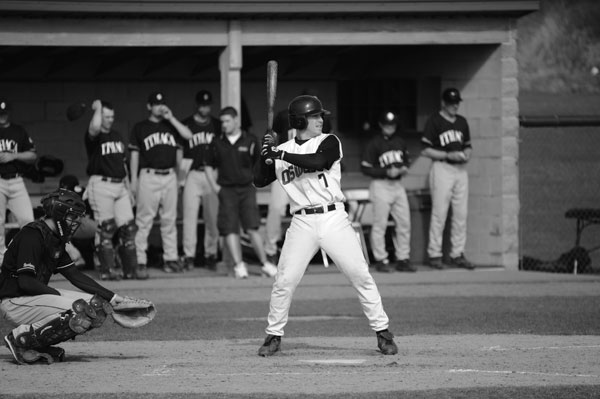 The Oswego State baseball team returned to upstate New York with a 6-3 record after a nine-game spring break in South Carolina and Brooklyn. The road trip began sour as the Lakers dropped three straight, including a game to Division I Claflin University. The trip ended sweet, however, as the Lakers won their final four in South Carolina and another two in Brooklyn.
Frank Paino returns for his 24th campaign as the Lakers skipper. Paino has posted a 448-322-1 career record since taking the helm in 1987. This season, Paino's Lakers consist of 11 upperclassmen and 15 underclassmen, including eight freshmen.
"We are going to make mistakes; which is OK as long as we learn from the mistakes," Paino said. "We [have] to stay confident, win or lose, and play loose and aggressive."
With the season one-third over already, the Lakers look to their senior leadership to help guide the young team. The Lakers return seven seniors, including infielder Mike Levy, the leader on and off the field for the Lakers. Last season he was named the spring Chancellor's Scholar Athlete posting a 3.8 GPA. On the field, Levy started all 34 games for the Lakers, batting an impressive .367 and driving in 26 RBI. Levy also swiped 15 bases on just 16 attempts while scoring 38 runs. Levy was also named to the All-SUNYAC first team.
"He will teach you how to play baseball the right way," coach Paino said. "He is a role model on and off the field and in the weight room. You can just sit and watch him play, because he leads by example."
Bryan Stark returns for his senior campaign in center field, where a year ago he batted .351, drove in 20 runs and was named to the All-SUNYAC second team. Stark was 8-for-8 on stolen base attempts and scored 34 runs.
"Both are real bright kids with a lot of baseball intelligence," Paino said.
Andy Salvatore returns for his senior season to anchor a deep Lakers pitching staff. Last season, Salvatore threw 491/3 innings and struck out 36 batters, both team bests, while posting a 4-3 record.
"He gives you everything he's got each time out, and that's something I want our freshmen pitchers to emulate," Paino said.
The Lakers also return junior pitcher Marc Peterson, who threw 452/3 innings. Last season, Peterson led the 2009 Lakers as a sophomore in wins with five and ERA at 2.56. Peterson also struck out 33 batters. Brady Farkas went 4-0 in 312/3 innings with a 4.26 ERA as a freshman a year ago. Dave Widrick and Dustin Lefave combined to go 3-4 in 602/3 innings for the Lakers in 2009. Lefave is coming back from an arm injury.
The Lakers lose their defensive specialist, catcher Danny Pecora. Offensively the Lakers will look to fill the voids left by Pat O'Keefe and Josh Stoetzel. A year ago the pair combined to hit .338, scored 54 runs and drove in 45 runs.
The Lakers add freshman pitchers Dan Erne, Jon Stevens and Chris Nyman. Over spring break, all three recorded either a win or a save. Replacing Pecora behind the dish is sophomore Andrew Lazzaro.
Freshman Ryan Clements and Mike Tarnowski are splitting time at the corners along with sophmore Dave Mazzullo. Junior college transfer Rafael Cordero will see time at second base.
The youthful Lakers will look to keep up in the SUNYAC conference, which as a whole is 59-23 in non-conference play this season.
"We're not at the top of the food chain of the conference because were young," Paino said. "By the end of the season, if we learn and stay healthy, we can make it interesting. But staying healthy and learning can't be controlled."
The Lakers look to win more than 20 games and earn a postseason berth. But more importantly, play as hard as they can and compete everyday.
"We can hang with anyone, it's a very short and fast season," Paino said.
"It's a marathon played at a fast pace. It's not how we start, but where we are at the middle of the season and how we finish."
The Lakers open the home portion of the schedule with their first home contest on Saturday, March 27, with a doubleheader against the Red Dragons of SUNY Cortland.