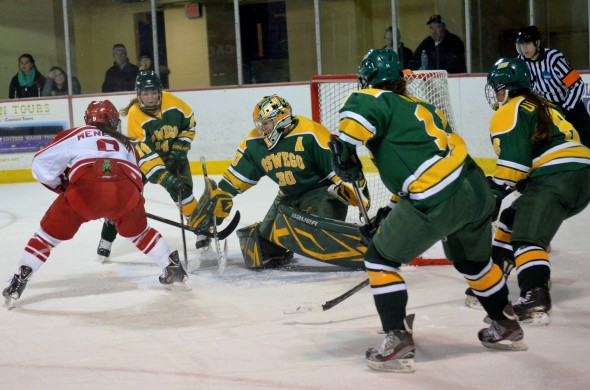 On March 26, the sport of women's ice hockey took a giant leap in progression with the announcement of the National Women's Hockey League.
This is not the only women's professional hockey league, as the Canadian Women's Hockey League has grown since its inception in 2007. What makes the NWHL different, however, is the fact it will be the first-ever league in which the players will be paid.
The NWHL has set a salary cap of $270,000, according to Bloomberg View, which with a roster full of 18 players, would average out to $15,000 per player. This may not seem like much but as head coach of the Oswego State women's ice hockey team Diane Dillon said, you have to start somewhere, and if this league can succeed, the sky is the limit on where the wages could end up.
One could compare this new expansion to what the Women's National Basketball Association did when it began in 1997. That league has steadily grown in popularity, to now where the average salary of a WNBA player in 2014 was about $72,000, according to Altuis Directory. Still not nearly as much as their male counterparts in the National Basketball Association, but still a decent wage to make a living off playing the game they love so much.
Dillon has seen how much the game has grown since her days of growing up in Buffalo and shagging pucks for the team her dad coached. Back then, there was no organized league for women to play in the area, so Dillon's father rented out a rink to allow local women to play, which is what started organized women's hockey in Western New York.
Women's hockey has continued to grow in Western New York, in many parts of the country and also all over the world. Dillon said seeing the level of talent rise in all levels of the game is exciting and what makes the possibility of the NWHL being a success, a reality.
With the talent and popularity constantly growing, it makes Dillon and senior goaltender Bridget Smith, who was announced as a first team All-American this year, so proud to be part of one of the fastest growing sports in America.
When Smith first heard about the NWHL, she was excited to see how it would play out. She is graduating in May and was even asked by many of her peers and coaches on her thoughts on perhaps even playing in the league. She is still debating on going to graduate school in the fall, however, but did say that if she ended up back in her hometown of Buffalo, where one of the expansion teams is placed for the first year of the league, she would consider trying out for it.
"It would be an awesome experience to be a part of," Smith said.
Even if Smith does not end up trying out for the league, it is still an incredible opportunity for young women like her to be able to play at a level where they are truly treated like professionals.
Dillon said for those women, especially the ones who are graduating from college, there are few options for them to continue to play at a competitive level. If one is not an Olympian or does not have the wealth to pay for all the expenses that comes with playing in a league that doesn't pay, most end up retiring from competitive play after college.
"Hardest thing for an athlete is hanging up the skates," Dillon said.
But with the NWHL, players will be able to continue to lace up the skates and continue to play. The talent is there, now it is just about grabbing attention and getting people to come to the games.
The fans that love the game will come, but being able to produce a large and loyal fan base might be difficult. With four expansion teams in Buffalo, New York City, Boston and Stamford, Conn., cities that are historic for their love of hockey, it has been set up to do well right from the start.
One can only hope this league will continue to grow and prosper. If it does, women's hockey could make leaps and bounds in the years to come. But if it does fade out quickly, the game could take a step back.
It is the risk the executives are taking and one that they believe is worth it. The league gives young girls just learning to skate something to aspire to do, as they watch these players take the ice.
The dream starts this October, with the league set to have a full set schedule that will last 18 weeks, with also two weeks for playoffs. It is time for a new chapter of women's hockey to be written, future generations will look back in record books and see how historic this was.