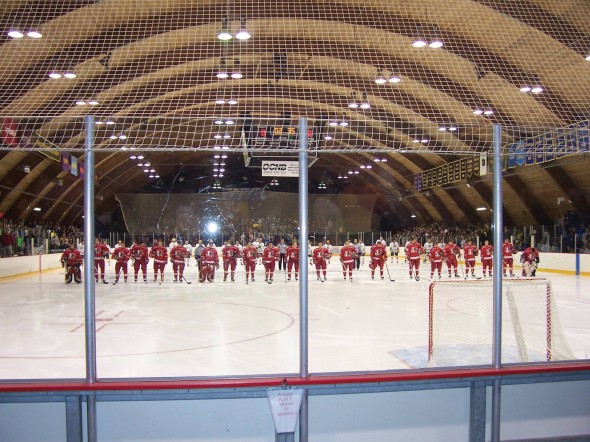 During the past 50 years, Oswego State's men's ice hockey program has developed a strong tradition of excellence, and Pete Sears has been around to see it since the beginning.
Sears was a goalie on some of those first teams in the early years and went on to coach, both officially and unofficially, throughout the years before hanging up his skates this past spring.
In 1964, George Crowe assembled the first ice hockey team in Oswego State's history at the club level. Three members of Crowe's first team were friends of Sears growing up in Lake Placid, N.Y. They returned home with numerous stories of how much they enjoyed their first experiences and how great Crowe was. Sears was hooked.
In the fall of 1965, he arrived in Oswego to begin his academic and collegiate ice hockey career. Sears' first experiences on campus were probably quite different than those of current freshmen.
"I'm from Lake Placid, which is about 3,000 people. Coming to Oswego was like coming to the big city," Sears said. "It was quite a bit different for me having to learn to get around and learning to come in and register for my classes. That was a bit overwhelming for me."
Sears also recalls the landscape of the campus was a bit smaller than it is today.
"The basic part of the campus ended with the infirmary down where Scales Hall is," Sears said. "That's as far west as the campus went. All those other buildings weren't here, where the library is now, where the union is now; none of those buildings were here. So, it was a much smaller campus. You could get around walking very easily."
The brand new ice hockey program Sears planned to be a part of, was still getting off the ground during his freshman year.
"He [Crowe] and the athletic director at the time got together and talked about the possibility of having a program and starting a rink here," Sears said. "From all the history I've heard and read about, they brought an airplane hangar in here. A World War II airplane hangar was brought to Oswego, and it was transformed into a hockey rink, and that became known as Romney Field House."
After two years at Oswego State, Sears was drafted into the U.S. Army and spent most of 1967 and 1968 fighting in Vietnam. Upon his return to the States in 1969, he returned to Oswego to resume his schooling. However, when he returned, the program had made the move up from the club level to becoming a varsity team, and had a new coach.
For his final two seasons, Sears played for Herb Hammond. The team did not enjoy the same success it had in his first two years, when it went 31-9-1. During Sears' junior and senior years, the Lakers had a record of 21-23. Although the team did not have much success, its standout goaltender received national acclaim as a junior when he was named an All-American.
Win or lose during his time at Oswego State, Sears looks fondly back on his experiences in college and is certain they have shaped who he has become.
"When I think about Oswego, I think, since that time every positive thing that's happened to me in my life has happened either as a result directly or indirectly through my experience at Oswego," Sears said. "Everything that's happened to me since then, in a positive sense, has been because I came to Oswego."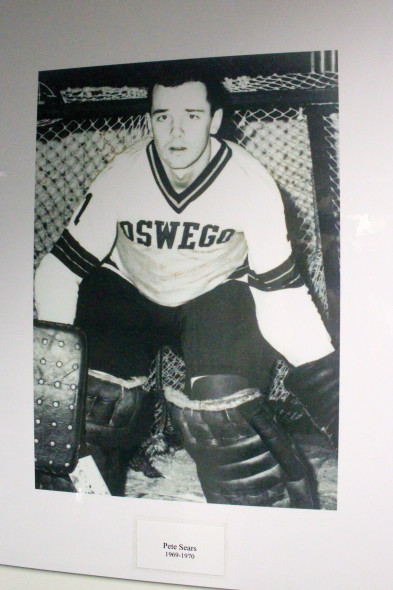 He also will always hold a special place in his heart for the rink he and his teammates called home during their four years. Sears had heard a number of stories from his friends about the atmosphere and the rink.
"It was this big ole building with a big wooden roof. It had the ice surface. It was pretty short. The corners were oval; they weren't squared," Sears said. "The neutral zone between the blue lines was smaller than most rinks. It had a big chain-link fence up all along the boards of the rink. It reminded me of something like a gladiator pit. The first game we had there, I couldn't believe the place was packed. It was overflowing. My buddies had told me they had great crowds and they were enthusiastic. But, you go out on the ice and it was just like being in a gladiator pit. The atmosphere was just unbelievable."
After graduation, Sears chased his dream of making the Olympic men's ice hockey team and landed a spot on the 1972 roster as the world set its gaze on the Winter Games in Sapporo, Japan.
Following his run on the national team, he returned to America and spent almost three years playing professional ice hockey at the minor league level. His short-lived career included stints in Cleveland and Columbus, Ohio and St. Petersburg, Fla. During the third year, Sears started to recognize his playing days were coming to a close and returned to Central New York.
In 1975, he was hired to teach in the Mexico, N.Y. school district where he stayed for three years before taking a job in the Oswego school district.
When he returned to the area in the mid-1970s, Sears went back to the college to help his former coach whenever he could. He remembers Mike Shelvin, the first goalie he worked with at the time and the relationship they had. Sears passed some of his old equipment on to Shelvin since his playing days were over and remembers how much work the New Englander put in.
"He was just a special kid," Sears said. "Every practice, he was one of those kids who wanted to work hard and after a game, if he didn't do well, he'd always want to talk to you and say, 'Well, what do you think happened on this goal? What do you think happened on that goal?' And we would talk, he was one of those kids that always wanted feedback, whereas some goalies don't always want that feedback."
Sears also enjoyed the transformation at that time of his relationship with Hammond as they became more than former player and former coach.
"Even when I wasn't helping him on the ice, we would talk to each other all the time," Sears said. "We would visit each other all the time. He would invite me over to his house and we would talk about hockey and other things. We coached at a summer hockey school together in Exeter, N.H. We'd go down from there to watch Red Sox games together. We were almost like brothers. Instead of a coach-player relationship, it almost became like a brother relationship after a few years."
In the late 1970s, the Lakers were slowly becoming a consistent contender in Division III men's ice hockey. After teetering around .500 for some time, they won 27 games during the 1979-1980 season to start a run of eight 20-win seasons over the next 10 years. During that time frame, the program won its first five SUNYAC titles and made its first six NCAA tournament appearances, including its first national championship in 1987 where it lost to SUNY Plattsburgh.
For much of the stretch, Hammond had passed the reins on to former Laker and Sears' old teammate, Don Unger. Unger and Sears are still close to this day and live just blocks away from each other. Unger had a philosophy of letting his players showcase what they could do. Unger was also the first Oswego State coach to officially have Sears come in to work with his goalies, and the chance was appreciated.
"Don was great. He let me do my thing with the goalies," Sears said. "He would ask my advice every once in a while, but I told all the coaches this, 'I never want to be the one that's responsible for who's going to start or who's going to play. I don't want my goalies coming to me asking, 'How come you have me starting instead of someone else?' I want to be their friend. I want to be someone they can come and talk to and not someone I'm going to have a confrontation with over who's playing and who's not playing."
Unger saw the value in Sears being around the team.
"I had the utmost confidence in him not only to play, but to coach," Unger said. "He would give us help with the goaltenders and give us added insight on their strengths and some areas to work. He stayed with us on the ice early season, pretty much as he does now, and then come to watch the games and give us more input. He would always stay in touch with the goaltenders. They always knew they could go to Pete for any kind of advice or to get their heads straightened out after a bad game or before an upcoming opponent."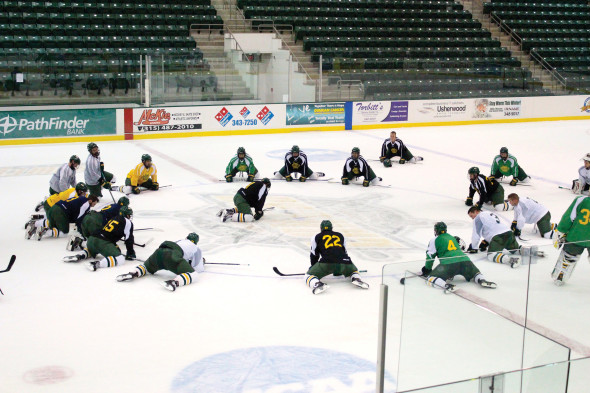 As head coach of the Lakers, Unger also saw the home-ice advantage his team had at Romney, but took it a step further in terms of its recruiting value.
"There was a phone just outside the alleyway heading to the rink, so I'd call some of my top recruits and they could hardly hear because, even in the warm-ups it was that loud," Unger said. "I would say, 'Oh, we're playing Plattsburgh tonight or Elmira tonight or RIT tonight. That's just the crowd.' When you got the recruits to hear that crowd it made us one of the top three choices on their list because of the atmosphere."
The Lakers' third head coach also revealed the origins of the team's most infamous rivalry with SUNY Plattsburgh. A combination of championship match-ups and a beloved coach taking the job at the opposing school elevated the intensity.
"It probably started approximately during the 1979-1980 season," Unger said. "Year after year, we would have sell out crowds there and sell out crowds where we were and we played in championships. Then, to accentuate that a bit, Oswego won the [ECAC] championship under Herb Hammond and then he went to Plattsburgh to coach there the next year. So, with our ex-coach and friend now with our biggest rival, it really became something special, a real competition."
Unger led the Lakers to one more SUNYAC title, and thus one more NCAA tournament, in 1991. He retired after the 1995-1996 season, stepping aside for George Roll, who was at the time coming from an assistant coaching job at Clarkson University.
Current Oswego State head coach, Ed Gosek, was an assistant at Oswego State at the time and, when Roll asked about any possible goalie coaches, he could not think of a better fit than Sears. With Roll, a more concrete position and direction was given to Sears' participation with the team, which set the precedent for the rest of his time with the program.
"We set up a system where I'd come out an hour before practice with the goalies. We would do our practice. I got a few shooters and I'd do what I wanted with the goalies, then I wouldn't stick around, I would leave," Sears said. "The goalies would come out with the rest of the team after that. It seemed to work out very well because goalies don't need a goalie coach hanging around all of practice coming over after every shot saying, 'You should've done this. You should've done that.' That gets to be old very quick. So, we got to have our little practice together and then they practiced with the team. George really helped with that, and he thought it worked well."
One goalie during those years who truly appreciated the presence of Sears was Carl Antifonario.
"Coach Sears brought an intensity with him.  His tone and the way he looked directly in the eyes – you knew it was time to work hard," Antifonario said via email. "I remember having goalie sessions with him before the team practice started and being so exhausted I could barely pick up my feet for practice (and later that night too).  I didn't love it at the time, but I completely get the effectiveness – he made us better.  There were times in the third period when I was very thankful for his conditioning."
With Roll at the helm, the Lakers won two conference titles and returned to the NCAA tournament each of those times. Matching his predecessor, Roll led Oswego State to the national championship in 2003 but, once again, the team came up short against Norwich University.
After the 2003 run to the national finals, Roll stepped down and handed the team over to Gosek. An Oswego native, former Oswego State player, coach for Oswego Minor Hockey Association and, at the time, most recently assistant coach for 14 seasons at the college, he was someone Sears remembered in many facets as a part of the Oswego ice hockey community.
"I can remember Ed when he played in high school," Sears said. "He played at the old Catholic high school. Don Unger, in fact, was the coach of that team. They ended up winning the sectionals one year; I think Ed was the captain of the team. He went up to North Country Community College, up in Saranac Lake for two years. Then he came to Oswego and when he came here we had an excellent team, great players. He was kind of a role player, didn't really play a lot at times and I think that's when he really started to think about coaching because I think he could see this was probably where his hockey career, as such, was going to end. He wanted to stay involved in hockey, so what could he do? He started paying attention a lot to what was going on from the coaching aspect of it, even as he was playing for those last two years. Then, he started to incorporate that when he began coaching minor hockey and eventually college."
The attentiveness Gosek showed as a player has served him well as head coach. While it took Roll until his final season at Oswego State to eclipse 20 wins, Gosek has led the Lakers to six 20-win seasons, including the last five seasons straight. He has also won three SUNYAC titles, been to six Frozen Fours, including the last five, and brought home the school's only national championship in 2007.
Attaining so much success himself, Gosek recognizes how well Sears has done in his ice hockey career, but understands he is so much more.
"He has an air and a presence that, I don't want to say demands respect, but he's a person you look up to," Gosek said. "Not even because he's an Olympian or an All-American or because he's a great coach, but because he's a great person."
During Gosek's tenure, one goalie who has reaped the benefits of Sears' style of coaching, both when he was a player and now as a coach, was Dan Jones from the Class of 2013. Currently the goalie coach at SUNY Cortland, Jones has taken what Sears taught him into his own career.
"He was a big fan of that we got to our respective programs and our spots from being the goalies that we were and he didn't want to change too much of us," Jones said. "He just wanted to keep us going and hold ourselves accountable, which was a big thing he wanted to do and a big thing that I try and do with our goalies, same thing."
Current Laker goalie, junior Justin Gilbert sees much of what Jones, his former teammate saw and is appreciative of the opportunity to work with Sears.
"It was extremely helpful. There's definitely times where you get frustrated because you're not playing, but he's a great mentor," Gilbert said. "He'd send me an email or pull me aside to talk to me and keep my confidence up, keep my head in and tell me to do all the little things and my time will come, along with the technical side and the mental side of the game."
On Nov. 22, when Oswego State will travel to Syracuse to take part in the Frozen Dome Classic, the Lakers will finally get to honor Sears for all he has meant to the program with a grand event. He, alongside the Lakers' No. 1 fan, known to Oswego State faithful as simply 'Billy,' will take part in the ceremonial puck drop to start the team's game against Utica College.
"It's a great honor," Sears said. "There are so many great people they could have asked to do that. When they asked me, I didn't hesitate to say yes. When I walk out there with Billy– he's been one of the most religious followers of Oswego hockey, he's been here almost as long as I have– I'm going to enjoy walking out there with him and representing a piece of Oswego history. I'm at the age where I don't get excited about a lot of things, but it gets my blood flowing."
Oswego State men's ice hockey has won 847 games, 10 SUNYAC tournaments, earned 15 NCAA tournament berths, reached the Frozen Four eight times, won a national championship, had just five head coaches and had numerous players recognized nationally and by the SUNYAC, but it may never again have a figure mean as much as Sears.