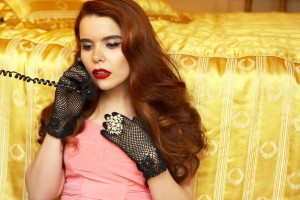 In 2009, U.K. based artist Paloma Faith released her debut single "Stone Cold Sober." Upon its release, Faith became a household name across the U.K. and large portions of Europe. From that moment, Faith went on to release her albums "Do You Want The Truth Or Something Beautiful" and "Fall To Grace." Her new-age jazz blended with her quirky costuming has also led the young singer to a large niche fan base in the U.S.
Her latest debut, titled "A Perfect Contradiction," has already become her highest selling record to date. In Europe, "A Perfect Contradiction" has received a platinum certification for its large sale count and its singles have consistently held top chart positions. Its release in the U.S. is no surprise. As noted, her growing fan base has flocked larger and larger audiences to her music and style.
Overall, the album is a strong third showing for Faith. Reflective of her previous work, "A Perfect Contradiction" only strengthens her work as a collection. Combinations of old-school jazzy soul and pop elements run rampant on each track and upon release, it is sure to become a hit. For Faith, a crossover into Top 40 music is imminent.
The album's lead single, titled "Can't Rely On You," plays off of Faith's funky vocals to create the perfect diva anthem. With nostalgia of old-soul instrumentals toying alongside Faith's robust vocals, the track gives revival to a music genre in decline. With the highest chance of becoming a pop-crossover hit, "Can't Rely On You" is the perfect song of self-empowerment and release from those deemed undependable in your life.
"It's The Not Knowing" once again focuses heavily on reminiscent beats and structures of the 1960s and '70s. It is perhaps one of the album's more eccentric songs with its bouncy synth combinations and Faith's raw, purposely scratchy melodies. "It's The Not Knowing" is soul music at its best.
On "Only Love Can Hurt Like This," Faith offers orchestra-level quality paired with beautiful lyrics. It's the perfect heartbreak song that will leave listeners stuffed with emotions. And with a rhythm that's easy to fall in love with, "Only Love Can Hurt Like This" may be one of the best ballads of the year.
On "Trouble With My Baby," Faith offers her most fierce showing yet. It's a theatrical track with a pulsating beat only furthered through Faith's fiery voice. From the beginning, where a piano practically drops the beat, the track instantly has a high likeability of becoming an album favorite. Through its intense build-up and danceable beat, "Trouble With My Baby" is the best song off of "A Perfect Contradiction."
"A Perfect Contradiction" reinvents the soul and jazz genre with a seamless blend of soul, class and funky eccentricity. Its mixing of multiple genres with pop music and combinations of Faith's sophistication and peculiar approach make each track worth listening to. At its worst, Faith's latest album can receive slight criticism for its lack of propelling forward of the songstress's rapporteur. Then again, if the well-maintained machine isn't broken, why fix it?