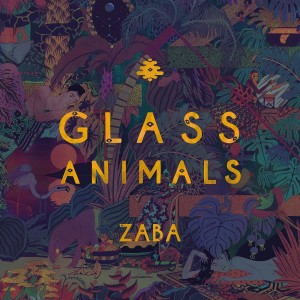 As the indie music scene continues its rise in popularity, a plethora of acts have come into their own, developing new sounds and creating unique styles. This musical revolution has provided some very different and eccentric styles, and the same can be said for Glass Animals.
These four childhood friends grew up in Oxford, England, began writing music together in 2012, and just this past June they released their debut album "Zaba."
"Zaba" isn't going to shake up the music world, but it's definitely a strong statement made by the English group, utilizing the album to introduce their style of music and creativity along with introducing who they are as musicians. Glass Animals' music is very cerebral, something frontman Dave Bayley is a fan of, as the album creates a dream-like state that is built for its listeners through the incorporation of simple beats, electronica excerpts, synthesizers and of course an animal kingdom.
Numerous critics have raved regarding "Zaba's" sound, specifically on its psychedelic pop meets R&B nature that could draw comparisons to Lorde. However, Glass Animals have done something different regarding music, they've created a symphony of dark, edgy, sensual music that allows their listeners to get lost in that previously mentioned dream-like state.
The best way to describe "Gooey," the first single off of "Zaba," is to call it a seductive, sensual, soulful groove that captures the group's eccentricity perfectly. Its minimalistic ways add to the song's allure. Back that up with some soothing vocals and ominous yet inviting melodies, and one can find themselves singing "I can't take this place, I just wanna go where I can get some space." All these little things that go into "Gooey" provides the song with its emotion which is possibly the most captivating aspect of the song.
The song is emotional and possesses the power to sway its listener's mood through Bayley's soft luscious lyrics wrapped around a lavish thumping bassline. "Gooey" is twisted in its ways, yet can capture you in its complex simplicity, making it utterly difficult to describe what makes this song so damn enjoyable.
Drew MacFarlane, Glass Animals' guitarist/keyboardist gives credit to frontman Bayley on developing song ideas.
"It kind of just happens in the middle of the night," MacFarlane said. "Dave just wakes up and has this idea and sort of rams it onto his computer before it's gone so he can get back to sleep. I guess that probably has something to do with the sound, some of it is quite dreamy."
One noteworthy fact about Glass Animals asks you to look behind the production board at big name producer, Paul Epworth. The Animals signed to Epworth's label in 2013, igniting what could be a bright future with a proven producer like Epworth who has worked with acts such as Adele, Coldplay, Bruno Mars and even indie darlings Bloc Party.
According to the group, Epworth challenged them to get out of their comfort zone and be open to experimentation with their music. Willing to comply, the group put out a few EPs before finally releasing "Zaba." Epworth's methods are admittedly unorthodox but have provided Glass Animals some very favorable results, making it hard to argue with his logic if it's proving dividends.
All in all, listening to "Zaba" is like entering a jungle. The scenery is vibrant, the atmosphere is hazy, the animals are at play and "Zaba" seemingly becomes a playground that is hard to leave. It's a strong eccentric album that won't make a lasting impact on the music world, yet opens the door for Glass Animals and their wild journey that lies ahead. Bizarre, twisted, enchanting, and enticing are all aspects the group of friends from Oxford all achieve on "Zaba," and it just makes one wonder what they are capable of at their full potential. Until then, we'll have to settle for the jungle.