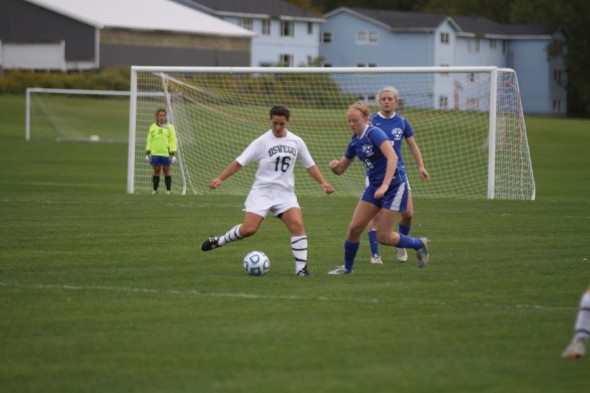 The Oswego State women's soccer team had a lot to think about this summer. Sitting on the heels of a 10-7 season, which saw them play in the SUNYAC Championships, the Lakers knew they would be entering this season with lofty expectations.
These expectations are not without merit though. After being edged out by the College at Brockport in the SUNYAC play-in game last fall, the Lakers are returning five seniors, a quickly developing junior goalie and a slew of promising underclassmen.
To find the source of these elevated expectations, one does not have to look any further than head coach Brian McGrane.
"In terms of talent, this is the best team we've ever had in my eight years, and I'd guess in a very long time here," McGrane said.
Those words from McGrane are even more impressive considering he led the 2011 Lakers team to an ECAC Upstate title.
A 2-2 start to this season was not the ideal beginning for McGrane and the Lakers, but this is certainly familiar territory. Last season, the team entered their fifth game with a 2-2 record as well. On the team's somewhat lethargic start, McGrane felt it should have gone differently.
"In our eyes, we should be 4-0, and I think in the players eyes as well."
Senior Tia Segretto started 12 games for the Lakers last season, scoring nine goals. Although that mark was enough for Segretto to finish fourth in the conference, she could easily eclipse that number this season. Just three games into the season, Segretto already has three goals. It had been a long summer for the team, eager for games to begin, but Segretto can see the improvement already.
"This year I think we are a lot better conditioned," Segretto said. "We have a lot of incoming freshmen. I think we are just going to be phenomenal this year, even better than last year."
Segretto recognizes the ability of these freshmen, and is aware of how valuable they are to the team.
"These freshmen are just as important as our seniors right now, quite honestly," Segretto said. "We have a couple starting, and they're phenomenal. They are going to just keep getting better and better, and everyone is doing great."
While Segretto and the seniors acknowledge how vital the freshmen are to the team, the freshmen are also benefiting from the veteran players around them.
"It's great being around people who will push you and help you excel and do the best that you can because you don't even know what you are capable of until they push you," said freshman midfielder Emma Geyer.
Geyer realizes that there are adjustments to be made, transitioning from high school soccer to Division III, but already feels confident in the team's ability to work as a unit.
"It's just meshing with a new group of girls," Geyer said. "I've been playing with the same group of girls for my entire life, but I think it's all going smoothly. We all work really well together."
In their most recent victory, a 6-0 win over Medaille College on Sept. 6, the team showed just how dominant they could be. The six goals scored were impressive, but not to be lost is the fantastic game by the defense, specifically goalie Alyssa Glasshagel. The junior, who now enters her second season as the starting goalie, expects more from herself, now that she has a full year in the net.
"I feel a little more pressure this year, like I need to be that much better," said Glasshagel.
Glasshagel was clear that the pressure-filled role is one that she embraces.
"I feel like, if anything, it raises my competition level. I enjoy it," Glasshagel said.
Glasshagel believes the success from last year will drive the team this season.
"I think it motivates us more now to hit the same level, to get to the same round of playoffs and go even further," Glasshagel said. "It's a lot more for us to look forward to, and to have on our shoulders."
For McGrane, the success on the field is not as important as seeing the team develop. Seeing the players, specifically the seniors, progress is one of his favorite parts of the job.
"That is why I do this job. I love being around athletes, and seeing athletes develop not only as players, but as people," McGrane said. "I think back to when they were seventeen, coming in as freshmen, to where they are now, it is awesome."
McGrane also admits that building a relationship with the seniors and seeing them leave at the end of the year can be difficult.
"It's always tough when they leave," McGrane said. "The seniors are in my office, probably four times a week. You get to know them on a personal level and you spend a lot of time around the same athletes."
Of course the Lakers are not focused on what follows the season, as they all have high hopes for what this year will bring. The seniors, in particular, want this year to be special. Segretto expressed a sentiment that would likely be shared by all the seniors, when asked about reaching the SUNYAC Championships once again this year.
"It would be awesome. There are no words for it," Segretto said. "I hope we do, and I think we really have a good chance at it this year."