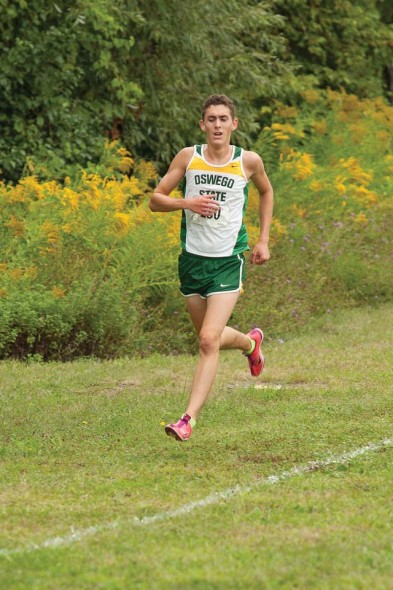 Over the course of his cross country career at Oswego State, senior Nick Montesano has not only become a great runner, but a leader on his team, as well.
A team captain this season, Montesano is someone who leads by example and someone his teammates trust. He is also seen in the locker room as an overall great and fun guy to be around. He always speaks very positively about his team and talks about how they progress and get better and better each week.
Head coach Stephanie Grimm is also aware of how important Montesano is to the team.
"Since freshman year, he has progressed more and more every year," Grimm said. "He is a very hard worker and heart-filled guy."
Sophomore Tyler Morris also explained why he thinks Montesano is so important to the team.
"He's a hard working guy and contributor to the team and he's a leader we as a team, can look up to," Morris said.
Montesano is from Apalachin, N.Y. and attended Vestal High School, near Binghamton, N.Y. He started running cross country in his freshman year of high school because his older brother and some of his close friends were also on the team, and they ended up convincing him to run with them. Montesano chose to come to Oswego State because he had a strong idea he wanted to go Division III, and because Oswego State has a strong graphic design program. When he got to Oswego State he decided to run for the team as a tool to relieve stress caused by academics and other stressors college brings. Since joining, he has become a major contributor to the program.
While at Oswego State, Montesano has proved to be a great runner, leader and student since his freshman year. In his first race, Montesano finished in 30th place with a time of 28:40. He was the top freshman in the race for the Lakers. By the end of his freshman year, he was at the top of the pack for Oswego State as he finished 53rd in the SUNYAC championships, and finished 4th on the team.
At the start of his junior year, Montesano finished in 23rdplace at the home Oswego State invitational with a time of 27:02. By the end of the year, Montesano had improved his 8K race time by two minutes as he ran a 26:44 at the Division III NCAA Atlantic Regional Championships.
Now in his senior year, Montesano is looking to make a run at SUNYAC and the national championship race. In both races so far this year, Montesano finished in the top seven, including a first-place finish at the 8th annual SUNYIT 6K Invitational. Montesano recently finished in seventh place in the Lakers home invitational with a time of 25:30. Montesano is currently in 4th place in school history for his 6K time of 20:20. He is also in 9th place for the 8Kwith a time of 26:36. The 8K record is one he has a good chance of breaking    this year.
Besides being a leader in cross country, Montesano is also a leader and strong contributor in track and field.
As a junior, Montesano finished in 13th place in the 5,000 meter with a time of 15:53 at the SUNYAC Indoor Championships. In the SUNYAC Outdoor Championships, Montesano finished in 10th place in the 10,000 meter race with a time of 33:10.
In outdoor track, Montesano holds the 10th spot on the all-time school record list in the 5k race with a time of 15:50. He is also 8th all-time in the 10k race with a time of 33:09. For indoor track, Montesano is top ten in one event, as well. He is 7th all-time in the 5k with a time of 15:50.
Montesano has made many memories over his four years at Oswego State but said one with a former teammate has to be one of his favorites.
"Getting lost on runs with an alumni now Kyle Gilyard, who graduated last year, would have to be my favorite memory," Montesano said. "We got lost a couple times on runs, but that would have to be my favorite memory."
After college Montesano is looking to get a job in the area doing something with his major.
"I'm graduating in the spring and I'm hoping to get a job in the Rochester or Syracuse area in promotional graphic design field or even public relations."
He also said that he will continue to run even after college and plans on doing a marathon and a couple of triathlons.
He had also said his dream job would be to work with a running company or with an advertising company, like Brooks or Nike.
Next weekend, the Lakers will be competing in the University of Rochester Yellow Jackets Invitational. The SUNYAC championships are Nov. 1, followed by the NCAA Atlantic Regional on Nov. 15. The NCAA Championships will be Nov. 22. With the talent on both teams this year teams and Montesano's leadership, Oswego State has a good chance of competing at a very high level for all three of these races.