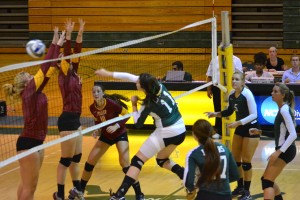 The Oswego State  volleyball team dropped an extremely back and forth home opener to St. John Fisher on Wednesday night at Max Ziel Gymnasium in Laker Hall, 3-2 (22-25, 25-22, 20-25, 25-20, 8-15).
After playing a grueling first four sets, both teams were clearly experiencing some fatigue. The Cardinals were able to finish off the game decisively despite that. They raced out to an early lead in the fifth set and won by a score of 15-8.
Before the last set even began, the Lakers had to fight back against the Cardinals who were up two sets to one after controlling the third set. Oswego State responded in a fashion just like the Cardinals had done to them. They seized control early in the set and did not let go of it, never relinquishing the lead they got in the middle of the set.
Perhaps the most dominate set of the night was the third. The Cardinals raced out to a 10-1 lead before the Lakers could catch their breath. The deficit seemed to be insurmountable, but the Lakers tried to roar back, before falling short, 25-20.
The second set ended with the Lakers tying up the match. It was much like the opening set and the home side eventually pushed out ahead toward the end to even the match.
The first set helped set the tone for the match. It would foreshadow what the rest of what would be an even match The teams were fairly matched throughout the first set. The dynamic carried over throughout the evening.
Senior middle blocker Stephanie Bailey had an impressive night. She had a career-high 17 kills in the match on an over 45 percent success rate. One of her teammates, Kelsey Dillson also contirbuted ten kills in the match.
Lauren Edwards had a match-high 22 assists, while Lindsey Champitto and Olivia Zimmerzan also had good performances, contributing 11 and 10 assists, respectively.
The Lakers will host the Oswego State Tournament this weekend as they take on four schools over the course of two days. The tournament begins at 4 p.m. on Friday when Oswego State takes on Wells College in Max Ziel Gymnasium in Laker Hall.