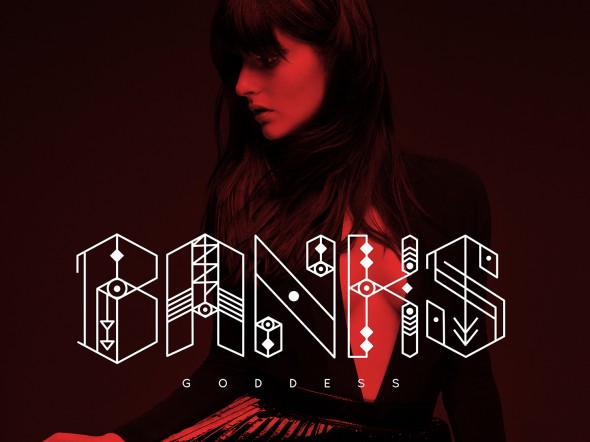 At the age of 15, Jillian Banks, more often recognized by her stage name Banks (stylized as BANKS), began writing music to help her through her parents divorce. Back then, the young artist never dreamed of international stardom. However, following viral YouTube music videos, a stellar EP titled "Fall Over," and growing popularity on sites like Soundcloud, the now 26-year-old has projected herself to promising fame, whether that was her intention or not.
In 2013, Banks received nominations from BBC's "Sound of…" awards and a "Brand New For 2014" from MTV. Preceding the release of "Goddess," Banks has been picked up as the cover of multiple magazines including ELLE and Clash. Increasingly, Banks has become a force to be reckoned with and has continued to gain popularity. Her debut album should only propel her further.
The lead track off of "Goddess" is "Alibi." F or an introduction to Banks, this song acts perfectly. Its mix of R&B and dark-wave pop create a near perfect combination. Through the interlacing of wispy falsettos and intense lower registers, Banks' "Alibi" is graceful yet complex.
Another key track on "Goddess" is "You Should Know Where I'm Coming From." On this minimalist track, Banks bares all. Focusing on vocals, rather than beats and synthesizers, she provides the album with a much more singer-songwriter dimension. Between Banks' unrefined voice and tender lyrics, this track acts as the perfect ballad.
Re-released from previous work, "Waiting Game" is one of the most powerful tracks on "Goddess." In the opening of  "Waiting Game," Banks uses soft, alluring piano and vocal combinations to build the track. This, however, changes as the synths bring in a much darker beat.  As the song grows, it becomes increasingly lonely and empty in the best ways possible. It becomes a song of longing. Listeners will be captivated by this piece of work.
On "Drowning," listeners are given more of the same stylized artistry many will be acquainted to. "Drowning," provides a check on those that Banks gave everything for and received nothing in return. It's a doozy of a song sung with fervor and anger. Listeners will be lost in the overlays of the melody and the straining of Banks' voice.
By far the best track on "Goddess" is "Beggin' For Thread." On this dark, emotionally raw track, Banks showcases all of her dimensions. As the instrumentals provide swirling beats and urgency, "Beggin' For Thread" continues to build until its last second. It's a ferocious, troubled track about imperfection that never        slows down.
Overall, Banks' album is near perfection. Because of this, critique seems unnecessary. But if one complaint could be made, it would be in the lack of versatility. While the album is multidimensional, every track lives in a world of dreariness and despair. Even her tracks on love lay visually somewhere between pitch darkness and the flickering of a candle. But, even this is made justifiable by the fact that Banks does not lead listeners to believe that any track on her journey would be light-hearted or fun.
For a debut, Banks' "Goddess" is a strong showcasing of musical talent and promise. Although some of the songs are re-releases from previous EPs, the vast majority of the tracks are new and refreshing. Each track flows seamlessly to the next and Banks' style is one of individuality. This album's imprint on the music industry seems inevitable because of how many will fall for this LA-based songstress.