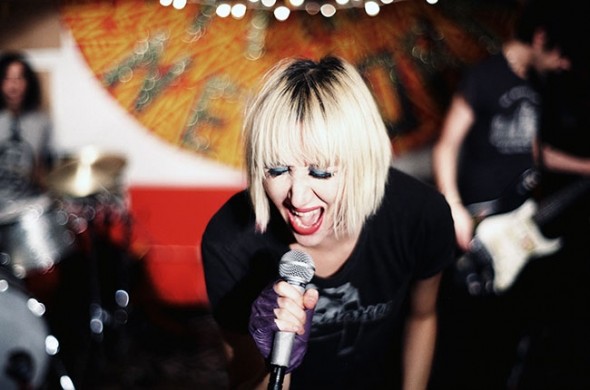 Karen O, the lead singer of the alternative/indie rock band the Yeah Yeah Yeahs, released her first solo album earlier this week. The album titled "Crush Songs" strays away from the alternative stylings of the Yeah Yeah Yeahs and sticks to the indie genre.
Karen Orzolek, otherwise known as Karen O, was born in South Korea to a Korean mother and a Polish father. The family eventually moved to New Jersey where Karen grew up. She attended Oberlin College but later transferred to New York University to study the arts. In 2006, Karen worked with Peaches, an electronic artist, and Johnny Knoxville of "Jackass" fame to record the song "Backass" for the movie "Jackass 2." She later worked with Knoxville again to record the cover of Roger Alan Wade's "If You're Gonna Be Dumb" for the third installment of the "Jackass" movies, "Jackass 3D."  She changed the name of her cover song to "If You're Gonna Be Dumb, You Gotta Be Tough."
The album "Crush Songs" was written entirely by Karen. The album was actually recorded about the same time as the Yeah Yeah Yeahs' second album, 'Show Your Bones" in 2006.
Only Karen's vocals and guitar played by another soloist, Imaad Wasif can be heard. Each song on the album is relatively short and repeats the same lyrics over and over again, like one long lullaby.
"I have friends who are producers who've been trying to get me to do a very produced, upbeat kind of 'Karen-O-goes-solo-dance-revolution-record,'" Karen said in a recent interview. "But there's so much of that out there in the world. It doesn't seem like there's a whole lot out there… about just, like, navigating through your love life…"
For most of the songs, Karen's voice is very soothing and harmonizes with the guitar perfectly. However, on some of the later songs on the album, Karen uses an exotic and guttural scream that allows her voice to reach new heights.
The opening track on the album is simply named "Ooo."  Wasif's guitar plays the same three chords over and over again. Karen's voice flows with the changing notes of the guitar. The song sounds very much like a lullaby. Especially the chorus' lyrics "drifted us to sleep." "Ooo" is an odd way to start off an album since it is such a slow and peaceful song.
The second song on the album, also the first single released, is "Rapt." The most popular song on the album, "Rapt" is the only explicit song. Karen's vocals and Wasif's guitar still have a very soothing, lullaby-esque vibe to them, but the song has a strong message about love. Her lyrics are very powerful and catchy. The song is about someone who does not want to be in love but inevitably finds herself in love.
Karen O's album "Crush Songs" is a very quiet and repetitive album. The songs do not have imaginative melodies, but the lyrics are very soulful and powerful. "Some of those songs are about the process of actually finding the one that I ended up with," Karen stated in an interview. "You don't experience a lot of falling in love in your life either, and who doesn't want to revisit that moment too?"