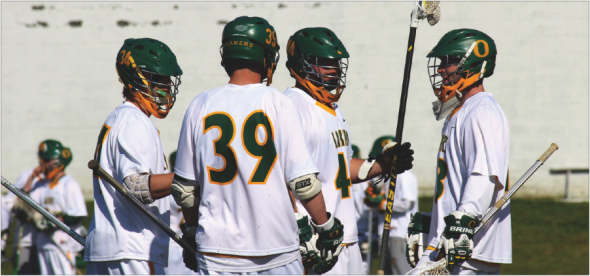 The Oswego State men's lacrosse team has endured a season of ups and downs, from starting the season 5-2, to losing four in a row, to winning two games in a row, scoring at least 20 in both of them. Now, after Wednesday's 10-6 loss against SUNY Potsdam in their final home game of the regular season, with one game remaining, the Lakers record sits at 6-8 (0-5 SUNYAC) and they have now been eliminated from making it to the SUNYAC playoffs.
Head coach Ryan Martin feels positive about his team's play this season.
"We've had some tough losses. One thing that hasn't been great is the amount of times we've been turning the ball over," Martin said. "That has really hurt us in a lot of games, this year, is unforced turnovers, but our midfield has been very impressive. Nick Giampaolo has certainly stepped up."
Giampaolo has definitely improved for Oswego State this season. The junior leads the Lakers in goals (26) and points (36). He had 10 total goals in the Lakers three games last week vs. SUNY Canton, SUNY Geneseo and Elmira College, which led him to being named SUNYAC Player of the Week, for the week ending on April 20.
Giampaolo recognizes how things have been working for him recently and all year long, compared to last season.
"Last year I didn't score that many goals and beginning of this year and I wasn't really doing too hot, so I kinda just figured when we started playing SUNYAC opponents…I just had to step up more," Giampaolo said.
Martin also mentioned that he was not surprised at all with the way Giampaolo has been playing for his team.
"I haven't been surprised, you know, Nick is very talented. He has a high lacrosse IQ. He has a great first step, and this year I've felt like he has improved his shooting and shooting percentage in terms of hitting the cage and forcing the goalie to make a save," Martin said.
"So I haven't really been that surprised. I've been proud in the way he's performed and stepped up in a lot of games and I'm just hoping he has a great finish to his junior season."
But, of course, Giampaolo can definitely thank his teammates, who he said have supported him and given the amount of chances to score.
"Well, usually the pole has been covering me, and my two linemates (Matt) Palmer and (Connor) Khammar have been doing a good job setting picks and helping create mismatch opportunities for me to be able to go to goal and dodge against the short sticks and make it happen for my team." Giampaolo said.
Martin also mentioned others who have made an impact for the Lakers at certain points of the season.
"Palmer has stepped up, and guys like Khammar and Jimmy Cordon in other games have had big roles. But certainly our faceoffs, have done good, as well," Martin said. "Troy Crevier has had another great season, playing at a high level as a sophomore. There has been a lot of strong points, but certainly areas for improvement."
Palmer, a junior midfielder, is fourth on the team in assists with 21, while Khammar, another junior midfielder, has 14 goals and five assists, and Cordon ranks fourth in goals with 16. Crevier, an attack/midfielder, has one of the best faceoff win percentages in the conference at .617.
While getting a lot of production from the juniors and sophomores, the seniors have been leading from a vocal aspect, making sure the rest of the team puts in 100 percent, every day. Martin stated is pleased with how the seniors have been doing this year.
"They've been doing the best they can. We don't have a big senior class, and some of those guys don't play a lot, but I think by coming to practice and working hard everyday, and just trying to bring the best out of their teammates is the way they've led the team and try to bring other guys along," Martin said
Senior goalie Brian Martin also stated how he and the rest of the seniors make sure the underclassmen are playing as a team.
"Getting them on board with what this program is all about, and that's going hard everyday in practice, and just no excuse," Martin said.
The senior also stated that he has been impressed with the way everyone on the team has been working.
"I would just say the kids just put in so much more work now since I've been here as a freshman," Martin said. "My freshman year, there were a lot of kids who weren't all in. We have everyone on this team who is all in and ready to go and just ready to take that next step and get into the SUNYACs (playoffs) and then compete for a SUNYAC championship, and they will get it done eventually," Martin said.
The Lakers will play one final game on Saturday at SUNY Oneonta, as they look to finish the season on a good note.