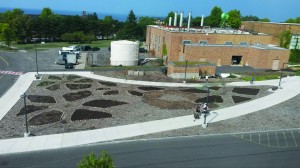 Sustainability has shown a presence on Oswego State's campus, with the progression of the new addition of the Permaculture Living Lab.
The Permaculture Living Lab is the garden located between the Shineman Center and Lee Hall, on what used to be a construction site. It is designed to maximize interactions among plants, insects and animal species. This "edible forest landscape" aims to function as a natural, productive learning space. Over the past year, students and staff have put in their time and physical labor to get the Permaculture Living Lab where it is today.
The term "permaculture," a mash-up of the words "permanent" and "agriculture," is a branch of sustainability that is intensely focused on self-regulation, self-regeneration and resiliency. These pillars are significant because they allow an ecosystem to be sustainable without maintenance, so that an initial input will give the system the capability for exponential output. Creating such a system requires vigilant observation, thoughtful planning and careful execution. By taking into account a region's natural conditions, the idea is that a system will be able to thrive because it's supported by the surrounding environment and its own ability to adapt.
A team of students and staff have been working for over two years to build a self-sustaining ecosystem on Oswego State's campus called the Permaculture Living Lab. The project began in the summer of 2013, and after a full year of design planning, the obtainment of a permaculture design certification with a proposal to the Oswego State College Council, the project came to life in April 2014. The Permaculture Living Lab is supported monetarily by Oswego State and grants that the Permaculture Committee applies for. They have also done fundraising with Oswego State alumni, such as last year's workshop on sustainability led by Dave Jacke.
These contributors have embraced the three central ethics of permaculture: Earth Care, People Care and Fair Share. Not only have they input these goals into their project, but they have made a great effort to keep all materials for the project locally sourced.
According to Grace Maxon, a member of the Permaculture committee, said when the project began, poor soil conditions threatened any idea of a flourishing garden. Members of the Permaculture Committee layered the soil with unpainted, non-waxed cardboard from local sources, such as the Oswego movie theater and our own campus. As the cardboard decomposes, it adds nutrients to the soil and helps block weeds from taking root. In addition, the compost used in the garden is from Lakeside Dining hall, which benefits the garden and helps to keep our campus green.
"The ultimate goal of the Lab is to create a place where people can connect to nature," Maxon said. "We want people from any community to be able to observe, interact, and learn."
According to Maxon, upon completion, the Permaculture Living Lab will be comprised of a fully edible garden and an outdoor study space. Students can interact with an outdoor study space, and the complete experience will occur when the geodesic dome is built and planted with hops and grapes. The geodesic dome is equipped with available Wi-Fi to further benefit students.
Maxon describes the extent of how students can interact with and eat what the Permaculture Living Lab's edible garden provides.
Imagine students on their way to play basketball at Lee Hall, but they forgot to pack a snack. They can stop by the Living Lab, grab a pear off of the tree, and eat it on their way to practice. Not only does this capability benefit us as people, but it also fosters an appreciation for what our earth provides for us, Maxon said.
"I think this project is positive due to the fact that we are making a difference," said Sandy Sanchez, the student intern for the Permaculture Living Lab. "Everything is connected. If the plants do well, insects do well, too, and this begins a positive cycle. It makes you wonder what positive outcomes can come from utilizing a vacant lot and building an edible garden."
The positive ecological impact of the Permaculture Living Lab is only one of the significant takeaways here. The project has brought together students, staff, and community members across several different disciplines.
"It's about figuring out what we can learn from the system and how to support it with the resources we have so it will succeed as best it can," Maxon said. "If different people are experts in specific subjects, we are able to create relationships not just with nature, but with people, too."
The interdisciplinary cooperation in Permaculture Learning Lab includes the technology education department who has helped with designing the tool shed and signage for the site; the English department has helped to draft grant proposals and write articles for the Oswego Alumni Office; the biology and geology departments plan to have plots of the Permaculture Living Lab that they can use for research; employees from Auxiliary Services are helping to coordinate the compost services and the computer science department is assisting with monitoring precipitation and pollution at the site.
Hundreds of people have been brought together over this project, but the interactions don't end with the Oswego State campus. The Permaculture Living Lab set up a booth at the local farmer's market and did a workshop with the Children's Museum of Oswego (CMOO) on composting. The Permaculture Living Lab even had a table at Harborfest.
The Permaculture Living Lab provides several opportunities for students to get involved. There are volunteer opportunities Saturday, Sept. 19 and Saturday, Sept. 26 from 1 p.m. to 3 p.m. October dates will be announced at www.facebook.com/suzyozpll.
Volunteer work includes weeding and landscaping and takes place at the Permaculture Living Lab between Shineman and Lee. An amazing opportunity that the Permaculture Living Lab offers is a study abroad course in Benin, West Africa. For the second half of the semester, students take a class in Oswego during which they learn about sustainability, the principles of permaculture and the educational and government systems of Benin. Over winter break, these students live in a sustainability educational community in Benin called Songhai and work on permaculture projects there.
According to Maxon, Permaculture Living Lab demonstrates how each individual can make a difference in the health of our earth by promoting an interaction between people and nature. The lab has also fostered interdisciplinary relationships within the Oswego State community.
"Seeing our community come out and help this site grow is a very satisfying feeling," Sanchez said. "I realized it's not all about just us. We neglect the fact that we are a small part of something so much bigger."
Although Maxon considers the Permaculture Living Lab currently "live," Oswego State is still in the process of applying for grants to build the geodesic dome and solidify a project timeline, she hopes the project is complete by fall 2016.