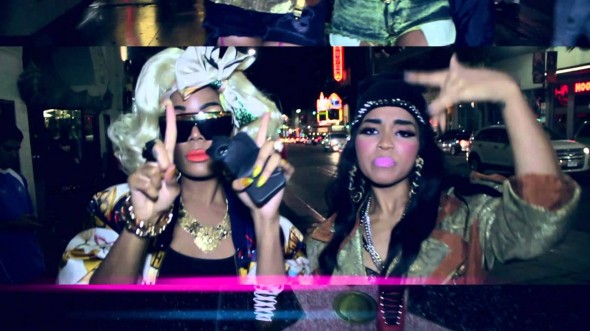 With lyrics like "I'm bigger than the U.S. Open," Scotty Rebel and Tokyo Diiva, better known as the duo Rich White Ladies, showcase a fresh sense of confidence through a certain amount of terrific hilarity and absurdity.
That line, which is a feature of their track "Wimbledon," is just one example of how the pair represents themselves on their debut EP, "Rich White Ladies." As far as underlying themes of humorous social critiques go, Rich White Ladies are a pair to be reckoned with.
Adopting certain heightened personas, the pair decidedly argued in a 2014 interview with "Wonderland" magazine that they do not see race. They said their name comes from the ladies being "rich in abundance," and white because they are "the brightest light in the industry."
On the EP's first track, titled "White Powder Perm," the Ladies delve into hip hop at its most fundamental level. With eccentricity throughout, the unique synthesized beat of the track is one most closely resembling the pacing of Nicki Minaj's most recent work. It's an entertaining track with a level of fierceness.
Retreading on "Wimbledon," the Ladies bring the heat through the EP's most comical song. Brimming with pop culture references, "Wimbledon" is a tell-off track like no other. The song is glamorous and worthwhile. Its potential is fully realized through its video, which only furthers the pair's personas.
With "Ransom," the Ladies find themselves positioned for Ke$ha-like viral stardom. Danceable and with pumping beats, "Ransom" is by far the most impressive and fiery piece on the EP. Completely and entirely focusing on holding random prominent historical and pop culture figures for ransom, each lyric of this outlandish track is                 entirely infectious.
"No Bad Vibez" is summery track that is both simplistic and appealing. Its warm and carefree attitude will permeate into audiences' emotions as they accept happiness and a go-with-the-flow attitude. It's a nice end to the EP's otherwise ferocious subject matter.
Overall, Rich White Ladies' debut is much less about feeding the masses than it is in giving those looking for a good time a truly good time. Its amusing and completely out-there tones help set Rich White Ladies apart from groups that take themselves far too seriously. Their unabashed characters are terrifically audacious and their music                       follows suit.