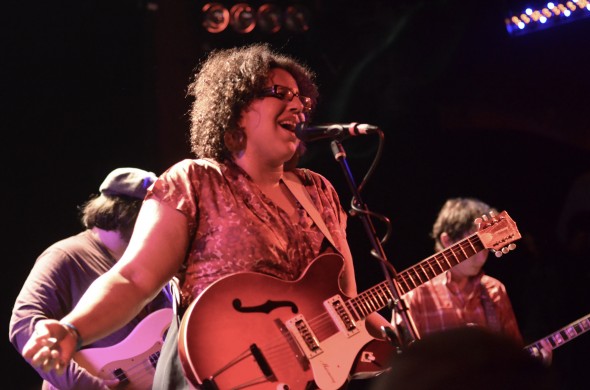 Alabama Shakes released their second album "Sound & Color" this Tuesday. The band has released a few singles that are featured on the album early on YouTube and Spotify. The album is good, but it still demonstrates the strain between the band and the                                   lead singer.
Their first album, "Boys and Girls" revealed Brittany Howard to listeners. The front woman of the band displays incredible talent and is featured in one of the band's hit songs "Hold On."
However, it was apparent that the rest of the band doesn't meet the level of the singer. The band doesn't stand out as much as Howard does. All they do is provide a basic rhythm for Howard to work with. Many may think this is the nature of a band, but the band needs to be equal to the singer to create a hit.
In the new album, the distance between the two becomes even clearer to listeners. For example, in their new song "Future People" the band doesn't match the song.  Both do a good job, and if paired with different lyrics or music they would be great, but as of now they do not have a good fit.
"Gimme All Your Love" is a better example of the two working together. The slower tempo and Howard's range match perfectly. The band performed it on "Saturday Night Live" on Feb. 28 and blew the audience away. It also demonstrates how well they can perform when they are in sync with one another.
The band also gave a performance of "Don't Wanna Fight" that made fans go crazy, and made those who don't listen want to find more of their music. However, as great as it was, it really showed how much better Howard is compared to the band.
"Miss You" is another song from the album that does this. The band is good overall, and in these songs they all create a great piece, but Howard makes it incredible.
"Sound and Color," the album's title song, is all right. When compared to the rest of the album it fails to stand up to the name the group has created for itself.
In the album, one of the best songs and an incredible example of the band working together is "Guess Who." The melody catches the listener's attention almost instantaneously and keeps it as the song progresses.
Overall the album is really good and something you should listen to if you have the chance. The band needs to work more on blending the music with Howard's style, yet the album shows that it is possible. As                       Alabama Shakes continues moving forward, hopefully we'll see the collaboration improve and                 the band thrive.