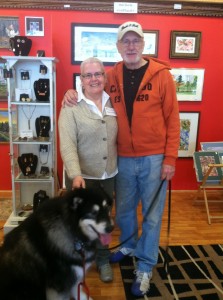 Lakeside Artisans started as a mere idea in the heads of founders Tim Ames and Michele Southgate. As artists and residents of Oswego, they wanted to create a venue for other local artists, and that's exactly what they did.
The plan to create their vision excited many people, as they entered Oswego's contest "The Next Great Idea," which was a business plan competition. Ames and Southgate won the contest and were granted $25,000 in November 2010. The store opened the following March.
"We beat out over 20 other people," Ames said. "We were really thankful for the opportunity. It accelerated our opening by about two years."
The store's tag line is "Handcrafted Gifts by Local Artisans," as the shop displays around 23 different artists, 20 of which are from Oswego, with a few being from Rochester and New Jersey. The only thing that's not made by local artists are the candles, because they couldn't find a unique, quality candle maker in the area.
Ames and Southgate both have their work in their store. Southgate specializes in mixed media, hand-painted silk scarves and hand-painted boxes. Ames specializes in acrylic landscape painting and furniture painting.
There is a process artists go through in order to get their work sold in the store. They must fill out an application and then send in pictures of their work. Then the jury decides whether the artist should come to one of their meetings along with their work.
"That's when we decide whether or not they'll fit in with us," Ames said. "Personality is just as important as the art work."
Lakeside Artisans is a really interesting place to look at. It has all different types of art, such as jewelry, ceramics, wildlife paintings, clocks, Cranky Cat's Collection and wood carvings, to name a few. The art sold there is of excellent quality and extremely unique. The highlight of the store is the one-of-a-kind items.
"It's a gift shop," Southgate said. "Most of the things that are bought here are usually bought by someone for someone else. Or they'll buy something for someone else, but also something for themselves."
Ames and Southgate are all about promoting local artwork. In the past, they have honored an Artist of the Month and they hope to bring it back in the next couple of months. They also feature Guest Artists, so people have the chance to get their work in the store.
Classes are offered at the store, the next one being a Wine and Paint event coming up on May 18, where people do acrylic painting.
The prices at Lakeside Artisan are practical and range from a few dollars up to $1,200.
The store hours are 10 a.m. to 6 p.m. and Sunday, noon to 4 p.m. There are extended hours on Thursdays with the Farmer's Market.