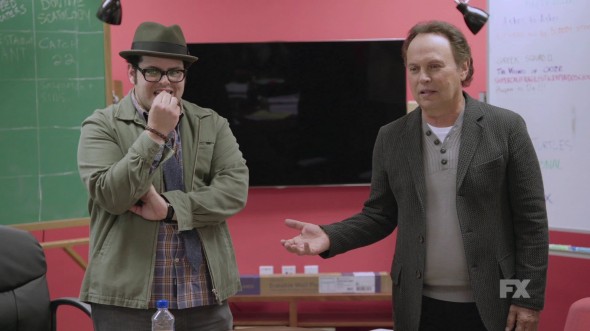 "The Comedians" premiered Thursday April  9 on the FX network. The show received just under one million viewers in its first episode, according to Nielsen ratings.  The show is decent, yet lacks the actors' true comedic styles and a sense of direction.
The show stars Billy Crystal ("Parental Guidance") and Josh Gad, known as the voice of Olaf from "Frozen," playing exaggerated versions of themselves. The two begin to work together on a sketch comedy show and the show follows what happens behind the scenes.
The show doesn't do justice to the two great comedic stars. Crystal has a few good scenes. His jokes are funny, yet when he isn't joking you can tell that he's just lazily playing himself as a character for the show. Gad, on the other hand, did not really have any good moments in the episode. His style of the humor is composed of nothing more than dick jokes, then he adds in backstory about not having a father for some quick exposition. So much more could have been done with                                   his character.
Concept-wise the show is far from original. The show is based off a Swedish show called Ulveson and Herngren. On top of that, the way in which the show is written and shot is very similar to "The Office" and "Parks and Recreation" in their earlier seasons. Some steps should be taken by the show to create its own voice. Maybe include sketches they do for their show inside the show, or change up the characters more. Megan Ferguson ("Love and Other Drugs") plays a useless personal assistant, which is almost a perfect copy of April from "Parks and Recreation."
The only originality seen in the show is from Stephnie Weir ("Mad TV") and Steven Weber ("Wings"). Weir plays a producer who must hire Weber's character, her former lover, as a director after Billy fires the one working for the show. Although, unbeknownst to everyone, Weber has gone through a sex change and has become a woman. It would be awesome if the show built off these two more, however Weber hasn't been cast as a main character so their story most likely won't last long.
As for the direction of the show, it is very unclear where they want to take it. After Gad's exposition it is certain that they'll slowly grow Crystal into a father figure for him, but that's about it. The show within the show is going to continue, the two will continue to struggle for power and everyone else will be left to deal with them. Right now "The Comedians" is nothing more than segments leading up to punch lines and nothing more.
As of now, this is nothing that needs to be watched. It might have been better if the show aired two episodes of the series so people can see where the show is heading. Yet, with what is there right now there is no need to give it any attention or praise.