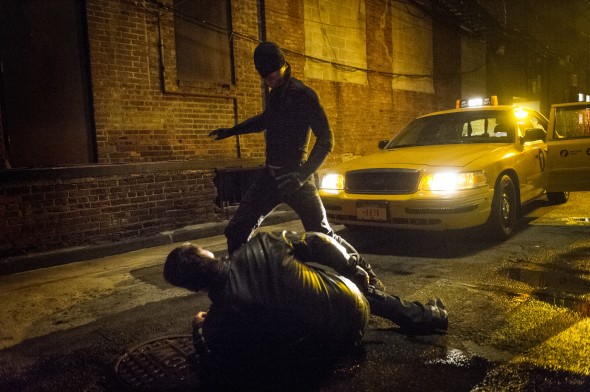 Most people look visibly puzzled or just outright laugh when you mention Marvel Comics' Daredevil as a character. He's a blind lawyer by day who dresses like a crimson luchador and protects an ugly, irrelevant neighborhood by night. Hell, most people probably said, "You mean they made a sequel to that so-so Ben Affleck movie?" when it was announced that Netlflix would be co-producing a long-format television show based on the titular crimson crusader.
"Marvel's Daredevil" keeps a lot of the Catholic moral questions of right and wrong and light-hearted legal banter that the movie did so well, but this new adaptation of the mythos does away with campy costumes and absolutely cheesy dialogue (You've come a long way from Bullseye, haven't you Colin Farrell?) for a much more realistic and true-to-life portrayal of an albeit above-average man trying to make a difference in his community.
Our eponymous hero in red, Matt Murdock, is played by Charlie Cox, who also recently played another doomed Irish romantic on the fantastic "Boardwalk Empire." The main villain is played by Vincent D'Onofrio, who is most known for his "Law & Order: Criminal Intent" stint. He plays the entrancing and enigmatic crime lord and philanthropist Wilson Fisk, aka The Kingpin.
The main thing that stands out about the protagonist/antagonist and, by extension, the rest of the cast, is how vulnerable and fragile they all are. These characters all feel like real people; they bleed, they cry, they all pray for a better tomorrow. Although this takes place within the canon of the Marvel Cinematic Universe, it's difficult to see these grounded characters bump shoulders with the likes of the lofty, world-shattering exploits of "The Avengers" or "Guardians of the Galaxy."
Knowing that Murdock sees and deals with the harsh realities of urban life in and out of costume, Netflix held back nothing and shows the gruesome effects that organized crime, poverty and violence can have on New York. The violence can be a bit much at times, especially for those with weak stomachs, but it stays true to the comic's gritty, Frank Miller-helmed stint of the 1970s sans the misogyny or the cynicism.
The fight choreography on this show is absolutely incredible and would make the likes of Tony Jaa look twice. The cinematographer is careful not to let the acrobatics rule the camera's movement, as you get clear and stark images of Daredevil laying a veritable smack down on armed thugs across rooftops and in dingy dockside warehouses. It seems that every henchman and goon in New York seems to be some sort of black belt, but nonetheless it makes for an exciting watch, as every fight for Murdock feels like it could be his last if he makes one slip-up.
The show also strikes a delicate balance between legal maneuvers and martial arts ones. The idealistic and eminently likable law partner Foggy Nelson, played by Elden Henson ("The Hunger Games: Mockingjay – Part 1"), and anti-damsel-in-distress legal secretary Karen Page played, by True Blood's Deborah Ann Woll, provided much of the plucky comedic effect that forms the backbone of the law firm of Nelson and Murdock.
"Daredevil" proves that Marvel can do a premium-format, serious superhero television show and it certainly sets the stage for the other Netlfix-based adaptations of the street-level heroes it wants to put on the map. It's not as cheesy or awkward as the CW's teenage melodramas "Arrow" or "The Flash" and it has something artful to contribute to the superhero genre and the medium of television.