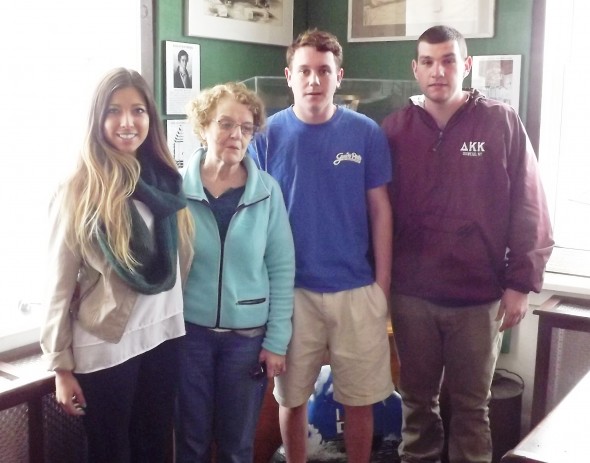 The Oswego West Pierhead Lighthouse is currently undergoing improvements and refurbishments with the help of the community and students at Oswego State.
The "Love Our Lighthouse" campaign has begun through the Maritime Museum, which seeks to bring awareness to the lighthouse updates and raise money and community support and involvement.
Restoration of the lighthouse began in 2012, when asbestos was removed from the site. The restoration has continued with repairs of walls, painting and working toward improving visitor access. The H. Lee White Maritime Museum website says, "It is our goal to promote, create safe access and to make the Lighthouse suitable for visitation."
The lighthouse, built in 1934, is "representative of the City of Oswego and its rich maritime history, culture and heritage," according to the Maritime Museum website.
"It is a comforting sight to see the Oswego lighthouse, as it is very much part of our city," said Andrew Curran, a resident of Oswego for over 30 years.
The community of Oswego is also invited to get excited about "Love Our Lighthouse" through events and fundraisers, such as a silent auction. Curran said the lighthouse is an important part of the town to him.
"As a professional mariner, I have seen and appreciated many lighthouses all over the world," Curran said. "It is a beacon of safety pointing the way into port."
Oswego State student Chris Fitzmaurice said he thinks it is a good time to repair the lighthouse. He visited last semester and said the lighthouse seemed worn out and had graffiti on it.
"The lighthouse is symbolic of the identity of the town," Fitzmaurice said.
Four Oswego State students are taking part in the restoration project and using their skills to provide fresh insight in business and public relations. Audrey Diaz, Jack Gonzalez, Haliegh O'Sullivan and Christopher Urato are interning through the "Leadership in Our Field" course at Oswego State.
Gonzalez, a senior public relations major, said he loves writing and is helping with the public relations for "Love Our Lighthouse" campaign.
Urato, a senior business administration major, said he "chose the maritime committee because the lighthouse is an important symbol in the Oswego community."
Urato is helping with fundraising, event assistance and publicity. He said he hopes to learn more about the history of the lighthouse and the Oswego community through this project.
"The project connects with my major in the aspect of interacting with local business community in a professional way," Urato said.
Diaz is using her business and finance major to help with the "Love Our Lighthouse" campaign as well. Diaz said she has been learning a lot through the internship.
"I have seen the internal workings of an organization," Diaz said. "I have learned various hands on skills and experience in promoting events, fundraising, working with peers and marketing."
Helping Oswego restore this landmark has given Diaz many good experiences.
"I greatly enjoyed working with a team of my peers and seeing all the great ideas we were able to come up with by collaborating together," Diaz said.
"The main goal is to bring awareness and raise as much money as possible for the Oswego West Pier Lighthouse restoration project," Diaz said. "My fellow co-workers and I are expected to help with the solicitation and preparation of auction items."
O'Sullivan, a junior public relations major at Oswego State, is also part of the maritime committee through an internship. O'Sullivan said she has been impressed by the passion behind this project.
"Each and every one of them cares tremendously about preserving Oswego's history and getting people to be excited about this historic landmark again," O'Sullivan said.
Oswego State students are involved in the project to gain experience and internship credit, but for some of them, it has become more than an academic opportunity.
"I want to become part of saving Oswego's history," O'Sullivan said.