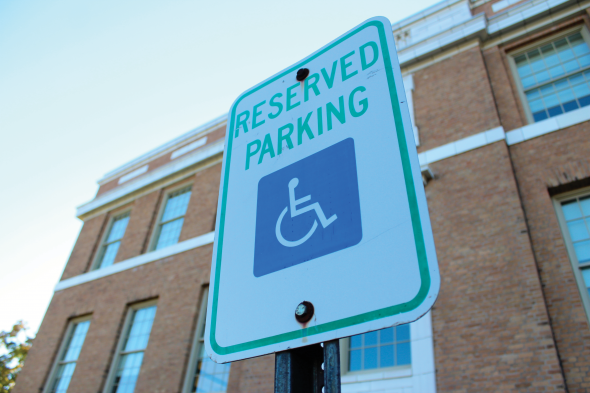 The amount of appeals granted to on-campus parking violations at Oswego State has declined 13 percent so far from the 2013-2014 academic year to 2014-2015, according to statistics kept by the college's University Police.
The number of parking violations issued has dropped as well, from 8,059 in 2013-2014 to 6,768 in the 2014-2015 cycle (as of the end of March 2015), but the amount of cars registered on campus, including employee, resident, commuter and temporary, has also gone down 1,439.
Lt. Matthew Barbeau of UP attributed the decline in parking violations this year from the previous one to fewer vehicles on campus, but he identified other possible factors as well.
"In 2013, the Shineman Center was still being built," Barbeau said. "This construction caused commuter lot No. 8 to be shut down."
It is unclear exactly how much Shineman's construction could have influenced parking tickets, but Barbeau's speculation could be correct: 40 percent of all registered cars on campus received violations in 2013-2014, whereas only 35 percent have so far in 2014-2015.
Barbeau said weather also plays a role in how many parking violations there are on campus.
"While I don't have the exact numbers broken down by what month they occurred in, I would say that there are more tickets that are issued during inclement weather," Barbeau said. "It's difficult to say why. With poorer weather, commuters could be running late, thus causing them to choose to park in an area they know they aren't allowed to."
Fewer tickets have been issued and fewer appeals have been granted this year, but the percentage of tickets issued to appeals submitted has remained relatively steady, dipping only 2 percent from 18 percent in 2013-2014 to 16 percent this year.
The Parking Office directed a request for comments on why there have been fewer appeals approved to Barbeau, who explained that there are usually two factors in how an appeal is handled: what the violation is and what the violator's reason is.
"While my office nor the Parking Office have any say in how the appeals are handled, I would venture to guess that it is a lot harder to appeal a violation for parking in a handicapped space than it could be to appeal a ticket for parking in a wrong area," Barbeau said.
Appeals to parking violations are handled by an independent hearing officer, according to Barbeau.
Some students would rather just pay the ticket and avoid the appeals process, even if they believe the citation was unwarranted.
Breana Iannotti, a junior biology major, is a commuter who has had a car registered on campus for one year. She has received one parking violation, which she did not appeal. She was confused about the circumstances of it, but she decided to pay it anyway.
"I parked on the bricks [in the Shineman lot], but it was weird because they had the cones there, but there was a guy on a truck that was moving them so he could park there and the student who gives out tickets came over and helped him move the cones," Iannotti said. "He [the student] was helping me back up and stuff so I thought, 'OK, it must be OK.'"
But when Iannotti came back out to the Shineman lot after her class, she saw she had received a citation.
"I was like, 'Ah, whatever, I wasn't supposed to be parking there anyway,'" Iannotti said. "But the fact that the parking coordinator or whatever was helping me, I thought it must be OK. But apparently not. But I wasn't gonna fight it. I just paid it."
Iannotti said she paid the ticket online later that day, which is earlier than average; Barbeau estimated parking tickets are usually paid within three to five days.
Iannotti said if she receives more parking citations in the future, she will most likely just pay them.
"If I'm given a ticket I'm usually in the wrong," Iannotti said. "It would have to be a special situation for me to appeal."
However, Daniel Lee, a junior communication and social interaction major, has appealed two parking violations so far and plans to keep appealing in the future. Lee, who lives on campus, has had a registered car since August 2013.
"I've only received one violation," Lee said. "However, my friend from home received a ticket when he visited me. Like my ticket, he was not actually in violation and was given the ticket illegally."
Lee received his ticket because he was parked in the Oneida lot and his car was not registered to Oneida. However, as a Village resident he has the right to park there. His friend's violation was because his temporary parking permit had expired, but Lee said the ticket was actually given on the last day the permit was still valid.
"The response from the Parking Office on both occasions was incredibly slow," Lee said. "I still haven't received feedback from them concerning mine and I appealed my ticket March 26, 2015."
As of April 12, Lee had yet to hear back from the Parking Office about the status of his appeal.
On behalf of the Parking Office, Barbeau said appeals usually take approximately two weeks to receive a ruling.
"The process to appeal a ticket is stressful, not because of the actual appeal—I did both online—but because of the fact that there is no response from the Parking Office until weeks later," Lee said.
For his friend's case, Lee had to miss a class to attend a "hearing-style appeal."
"It was unreasonable and unnecessary," Lee said. "Especially when there was not a violation to begin with."
Though Lee is frustrated with the handling of his two appeals so far, he said he will still appeal any ticket he receives for unlawful reasons in the future.
"I am already paying enough money to obtain an education," Lee said. "The last thing I want to do is hand some cash to the Parking Office, despite following their rules fully."
The money received from parking violation fees goes toward the upkeep of Oswego State's campus, according to the Parking Office's FAQ page on the Oswego website. The page states the money is used for any number of things the campus needs, including "parking signs, parking lot maintenance, civilian salaries, grounds equipment [and] parking lot construction."
Anyone who wishes to appeal a parking violation must do so within two business days of the date the ticket was issued. If no appeal is made, the fine is due after three more business days. If a ticket is appealed and denied, however, the fine is due two business days after the determination.
On a page entitled, "Considering appealing a ticket?" the Parking Office lists reasons "not typically accepted as valid grounds for violating parking regulations." Among these are "Lack of knowledge of parking regulations," "Only parked a few minutes," "Lot was full," "Was late/weather was bad," "Other vehicles parked without a proper permit," and "Someone else was using my car."
To appeal a parking ticket online, go to the Parking Portal from the Parking Office's main page on the Oswego website and fill out the form under "Lookup a Ticket." Appealers may also write their request on the back of the ticket they received and submit it to the Parking Office in person or by mail.