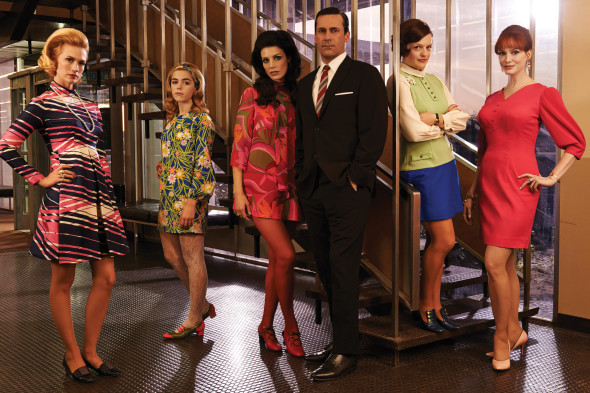 The first episodes of the final season, or eighth and ninth, if you want to get technical, of "Mad Men" are entitled "Severance" and "New Business," respectively. Yet, in these mildly surreal, elegiac episodes nothing is really severed and old business entirely abound.
Even though we have jumped forward, past Neil Armstrong and Woodstock, into the new decade, 1970 feels oddly familiar. Much like the famous Carousel projector pitch Don Draper made, it feels like we've gone around and around and not really moved anywhere different. Don (Jon Hamm) is still womanizing and ditching work for more dalliances, Pete Campbell (Vincent Kartheiser) is still a smug jerk, Roger Sterling (John Slattery) is still a hilarious misogynist, and while Peggy Olson (Elisabeth Moss) and Joan Harris (Christina Hendricks) still have to fend off lecherous advertising executives who refuse to take them seriously as women.
The endless cycles that we knowingly, and unknowingly, subject ourselves to has been a constant theme on "Mad Men," but it can be felt more than ever now that we are lurching closer to the end of the road, as it were, with these characters.  People are always trying to reinvent themselves on this show, forgetting that reinvention is a two-sided coin and that amnesia is on the other side of that coin. From watching these down-to-earth, flawed people, one can't help but ask, "Can these people really change into the people they want to be? Is anyone really capable of change?"
The centerpiece, of course, has always been Don's personal journey of self-discovery, perhaps the shedding of the Don Draper identity and becoming Dick Whitman again, or just someone else entirely. It's frustrating to watch Don fall back into his old habits of alcoholism and anonymous sex, knowing that he promised his daughter Sally (Kiernan Shipka) that he'd be more honest and forthcoming from now on.
A reflective element has been introduced relatively late in the game in the form of Diana, a mysterious and sensual waitress played by Elizabeth Reaser.  No one can say the show creator Matthew Weiner doesn't know how to throw viewers for a loop. Astute viewers and those who have kept track of Don Draper's numerous sexual conquests will note that she is unlike any other woman he has been involved with and, in many ways, strikes viewers as a female version of Don. Don is entirely honest with her, though the tension caused from his pending divorce to his second wife Megan (Jessica Pare) colors their first encounters together.
No one knows for sure how "Mad Men" will end, but no one is really thinking about it like that. It isn't like its sister AMC show "Breaking Bad," though both shows ushered in a new era of some of the best scripted television ever. We just have to go along for the ride and see where these people end up, just like we all do day by day.