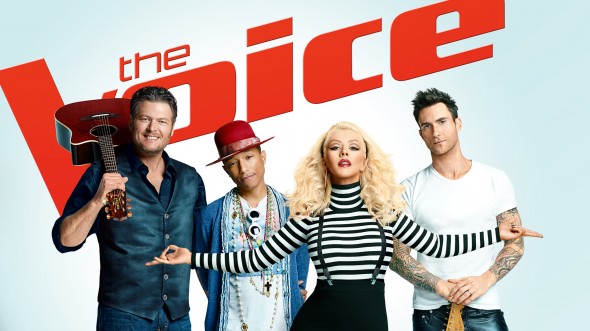 From the beginning, the eighth season of "The Voice" has continued to heighten expectations. Spectacular auditions lent themselves to great battles and even better knockouts.
Now, with only eight contestants left, it seems as though the top music competition will only continue to excel. Following the jolting elimination of an early frontrunner during the result show on April 14, it is as though no one is safe in the increasingly contestable season.
With only 10 contestants remaining, each showcasing their artistry through a variety of genres, "The Voice" has certainly entered a high point in its history. All things considered, predictions can still be made about where each contestant will fall leading up to the                                        show's finale.
10. Rob Taylor
While certainly a surprise entry in the live shows, Taylor's R&B-pop blend has turned him into a force to be reckoned with. From unnoticeable beginnings in the show, each performance of Taylor's has gotten better. That realized, it will only take a single misstep to remove him from the competition.
9. Deanna Johnson
For the opposite reasons of Taylor, the young Florence and The Machine-like performer has increasingly become unhinged and misplaced in the competition. Unfortunately, if she cannot recapture her audition's vitality, her bottom-three placement may mean the end of the road for her. Showing versatility should be her next move.
8. Koryn Hawthorne
Hot off the heels of her surprise playoff performance, Hawthorne has consistently shocked audiences with powerful ballads and impressive runs. Unfortunately, she is just another strong artist in an incomparably strong season and this may cost her.
7. Corey Kent White
The possibility of White making it much further, while possible, is certainly bleak. With the country vote shared with his fellow teammate, Meghan Linsey and her performances on the iTunes charts being an early indicator of her continued success, White will more than likely face issues. However, fans of the country genre love the southern charm and emotional love songs he performs.
6. India Carney
Like Johnson, Carney was an early pick for the crown. Unfortunately, talk of her has increasingly died down and her live performances have been subpar. While her performance of "Take Me To Church" was impressive, she has been unable to recapture the talk of her battle round and thus may have climaxed too soon.
5. Joshua Davis
One of the most reoccurring typecasts over the history of "The Voice," Davis' soft-spoken acoustics are great for casual listening but not much more. He is a likely candidate for the top five, but unless he provides some shock value to his act it's not likely that he will win.
4. Hannah Kirby
Fully disclosed, Kirby is a personal favorite. Her uncanny ability to nail classic rock performances and talents at connecting with songs through awkward dance moves have turned the young artist into a niche favorite. Lovable and constantly surprising, Kirby is a sharp contrast to Davis' low key performances as she hoots and hollers across the stage. From the battle rounds onward, she has gained increasing amounts of attention and has made herself a noticeable                                                             contestant to all.
3. Meghan Linsey
Surely a chart topper, but Linsey's previous fame and work with Steel Magnolias will play against her as people see her existence on the show as a conflict of interest. That being noted, Linsey consistently brings the heat with country hits like Little Big Town's "Girl Crush." She is an emotive force to be reckoned with.
2. Sawyer Fredericks
By far the most viral contestant this season, Fredericks seems unstoppable. His stripped down performances of soulful classics like "Trouble," have created a massive fan base. His original and deeply rooted voice creates an atmosphere that is unparalleled to any other singer so young. He will face issues moving forward in the sense that his performances are strikingly similar each week.
1. Kimberly Nichole
In terms of stage presence, the only contestant more active than Hannah Kirby is Nichole. Fierce and in charge, the pop-rocker is professionally a step above the rest. As each week passes, her performances have only grown. The grit and passion that she showcases paired with her odd outfit choices have led her to surpass expectations. The hope here is that she continues down a rock genre-based journey and sticks with it. Her only downfall could be a regression into more                          mainstream pop.