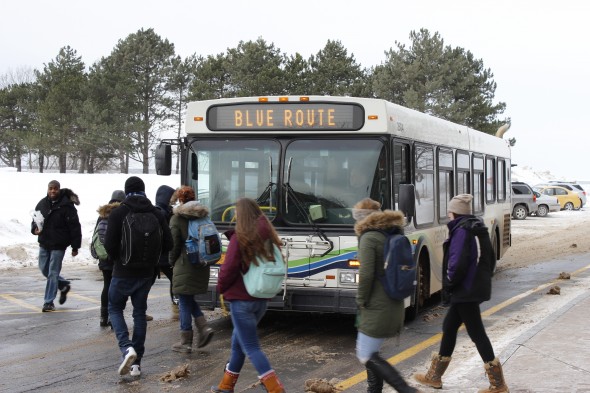 Centro officials are considering eliminating some bus services to amend for a $4.5 million budget gap, including some services offered to Oswego State students through Centro's yearly contract with Oswego State.
Centro has contracts with Oswego State, Syracuse University and Le Moyne College. Oswego State's yearly contract with Centro, however, is the most extensive of the three.
Students' yearly $97 Student Association fee allows students the privilege to a green sticker on their IDs that serves as their boarding pass for numerous services. Students get rides included in the SA fee around campus and around the city of Oswego, and free express rides to and from Syracuse Tuesday through Friday on the 446X route and Thursday through Sunday on the 246 route.
Although routes around campus are often overcrowded, routes to and from Syracuse are rarely even half full. The 246 route is only used by a few students except before breaks and on weekends. The 446X route started this year to accommodate students taking courses at Oswego State's Metro Center in downtown Syracuse, and rarely transports more than a handful of students.
Despite the extent of services offered to Oswego State students and how under-utilized they are, service cuts will not drastically affect students. According to the proposed cuts, however, there could be some noticeable changes.
Commuting students from Mexico and Fulton might feel some impact. Mexico and Fulton services might be consolidated, leading to less frequent trips for commuting students from those areas.
Sunday services connecting Oswego, Fulton and Syracuse via the 246 route could be cut altogether. Sunday services are superfluous to many students, amounting to little more than a way to get to Destiny USA and back on a Sunday. Many students, however, use Sunday services to come back from weekend train trips to their hometowns via Syracuse's Regional Transportation Center. This could force students to take overnight train trips to Syracuse on Sundays to catch a Monday morning trip to Oswego to be on time for class.
Centro officials could not comment on whether Sunday service cuts would make an exception to accommodate the commute for these students in next year's Centro-Oswego State contract.
On the whole, the Centro-Oswego State contract is not a financial burden on Centro.
"It's a break-even operation," said Steven Koegel, Centro's vice president of business development and corporate communications. "None of Centro's bus routes make money. We are subsidized by New York State and the federal government to provide public bus service. Passenger fares make up about 25 percent of the cost of operating our buses the rest comes from subsidies and some smaller revenue sources such as advertising on our buses."
Ideally, the transit authority's finances should have a "break even operation" for all bus routes. But with rising costs, the Centro-Oswego State contract seems to be the exception rather than the rule.
"As of April 1, we will hit a wall," said Centro Executive Director Frank Kobliski to state lawmakers in Albany last month. "If there is no change to our revenue stream, we will have no choice but to cut services in the city of Syracuse and Onondaga County."
According to Syracuse Post-Standard, with few sources of revenue despite growing costs, Centro is in financial straits. Gov. Andrew Cuomo's funding proposal for the authority has remained the same for the past few years. Centro takes a quarter of a percent of mortgage taxes, but Syracuse's flat housing market will take an estimated $700,000 out of the budget this year.
Expenses have jumped due to high operating costs for Centro's new transit hub in Syracuse, increasing union wages, medical costs and worker compensation claims, older buses in need of maintenance and increases in Kobliski's salary.
The proposed changes are preliminary. Proposed cuts would not go into effect until May 11. With the semester ending slightly after that date, changes effecting Oswego State would be delayed until after the semester is over.
"Centro would honor all existing contracts and re-evaluate all contracts upon their expiration," Koegel said.
Although the changes would minimally affect Oswego State, how the proposed cuts could affect Syracuse residents has been a heated topic for the past few months. Public hearings, meetings and coverage by Syracuse news outlets have highlighted how changes could drastically hurt the lower classes of Syracuse. As a result, the Onondaga County comptroller has begun to work with Centro to provide audit services and financial review.
Centro's work with the Comptroller could save Syracuse and Oswego State from the proposed cuts. But Koegel recommends concerned students get involved.
"I would encourage any student to write a letter to your New York State assemblyman or New York State senator to support efforts to structurally change the manner in which transit is funded in Upstate New York," Koegel said.