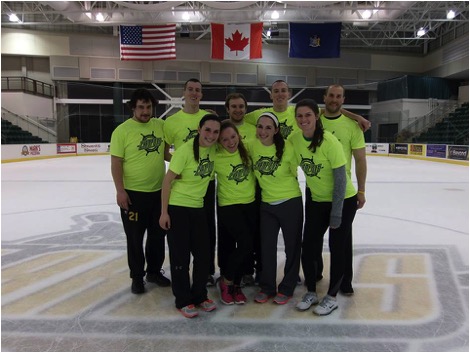 This past week in intramurals, the broomball tournament concluded with two championship games. Both the men's and co-rec champions were decided this past Sunday with two great games.
The men's broomball tournament came to a close this week with Snipe Chirp Cele and Stop n Dump facing off in the finals. Snip Chirp Cele was able take home the victory with just one win, while Stop n Dump needed two wins.
The game started out slow with neither team getting many scoring opportunities. The game was scoreless heading into the second period.
To start off the second period captain Chad Smith got a quick early goal for Snip Chirp Cele, scoring the game's first goal. This got Snipe Chirp Cele off to a strong start for the period. From there, the game became extremely competitive, however, neither team was able to connect with the back of the net for the rest of the period.
Starting in the third period, the number of shots on goal picked up on both sides. Play was intense throughout the period, but near the end of period junior Dylan Holden sealed the deal for Snipe Chirp Cele with a goal of his own. Captain Chad Smith said, "It felt good to win especially with the change and style of the game to full Ice this semester. It was very competitive with the size change and made the game more fun."
Snipe Chirp Cele took home the Championship T-Shirt and the men's broomball tournament title with a 2-0 victory.
In the second game of the night, the Crimson Panthers and the Iceholes faced off for the co-rec Championship. The Crimson Panthers were looking to defend their title from last year, while the Iceholes were looking to knock them from the top.
The game remained extremely close the entire time and was hard fought from both teams. The game remained scoreless through the second period. Both teams had many opportunities to score throughout the first two periods but neither team was able to finish with a goal.  In the end, it was Holden who led his team to victory, scoring two goals for the Crimson Panthers during the third period. This gave the Crimson Panthers a 2-0 victory.
It was sophomore Brenna Kenney's first intramural experience and championship.
"My friends Dylan, Brianna and Ashley really got me wanting to do it," Kenney said. "I thought it was just going to be a fun thing to do, I wasn't expecting to go all the way to the championships and we did. It was so exciting. The other teams put up a good fight and were really fun to play against because it was a challenge."
With that, the Crimson Panthers took home the co-rec championship title for the second year in a row.