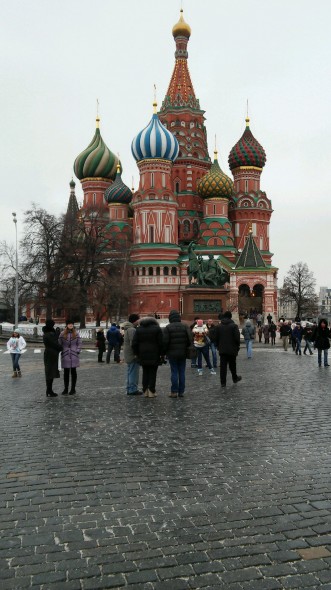 Fourteen Oswego State theater art majors traveled to study at the Moscow Art Theater in Moscow, Russia during the winter break for a cultural immersion and acting intensive mini-program sponsored by the Russian college.
Henry Shikongo, a visiting associate professor of acting and directing at Oswego State, worked with the Moscow Art Theater School to provide students with a three-week program, from Jan. 5-23, that allowed students to learn elements of acting typically not taught in the U.S. This was the first international acting program Oswego State has participated in— a recreation of a program at Harvard College Shikongo himself experienced in order to give Oswego State students an invaluable experience they would surely never forget.
The 14 students studied a variety of subjects, ranging from introductory acrobatics to stage design, during their six-day-a-week time spent in the classroom at the Moscow Art Theater School.
Alyssa Scruton, an Oswego State junior said it was "one of the best, if not the best, schools for actors."
The program created was rigorous, having students learn at the school for close to 10 hours six days out of the week. This additional month of schooling provided an exhausting amount of rigor from not only the length of class—the shortest class lasting 90 minutes and the longest class reaching just under three hours—but also from the physical intensity.
During lessons on Suzuki movement classes, students were on the verge of tears, only to be pushed harder.
"When we were crying on the inside, the professors would push us harder," Scruton said. "If they smiled at us while they pushed us, it meant that they knew we could handle it… You can really be alive in that moment."
"I know it is hard, but try, try, try!" a phrase the Suzuki professor repeated, became their mantra to remember during those moments of intense growth and their development of "acting tools to add to the toolbox."
After class and on Sundays, students explored Russian culture. Students visited museums of famous Russian actors and directors. Students also took in professional and amateur Russian productions after classes in order not to just experience the importance of theater in Russian culture, but to apply the lessons of each day's class to an extracurricular example.
"Your work is never done," Scruton said in regards to applying her lessons to her academic and acting career. "We're always a work in progress."
The progress these Oswego State students achieved at the Moscow Art Theater School is also exclusive. At the school, which resembled a repurposed strip mall, security around every corner checked students' IDs to confirm that they in fact belonged there. It wasn't until Scruton sat down at lunch one day after having shown her ID twice to get into the cafeteria that the reason behind these security measures became clear.
"These are really, really well known famous people," Scruton said. "You can't just be any old Joe Schmo walking into this cafeteria looking for food. You had to have a special privileged right to be there and to be in that environment, to be around these people in this space, and I'm one of those people, and that was really, really cool to me because I didn't realize what a privilege I had until that moment."
After learning from the Russian equivalent of Hollywood stars, these 14 theater majors became official graduates of the Moscow Arts Theater Program, complete with diplomas.