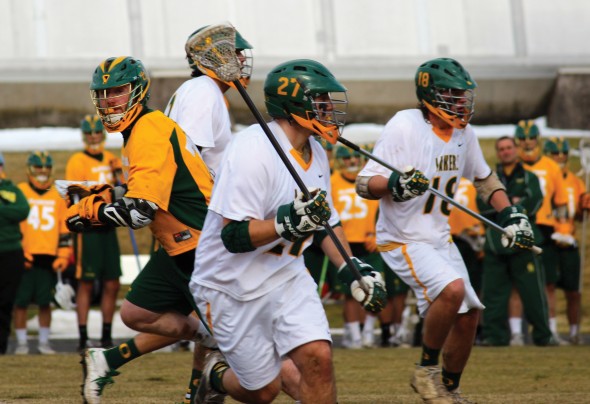 The Oswego State men's lacrosse team endured many highs and lows last season, but is now stepping into a new era with a different man at the helm of the program in Drew Bezek.
Bezek was hired back in December after former head coach Ryan Martin stepped down from the position in September to take a job as an assistant coach at Div. I program Hartford University. This left the team without a head coach during the fall semester, but seniors Cody Hoose, Nick Giampaolo, Matt Palmer, Ryan Kennish and Kyle Wistner stepped up and took on roles as the leaders and helped with running the practices.
With the help of assistant coaches Josh Maciorowski and Adam Knapton, who were both signed back in September, and the Athletic Director Sue Viscomi, Kennish said the transition between coaches was made easier for them.
Looking from the perspective of the players that were being led by this group of seniors, junior Troy Crevier said how the guys leading the team made sure the rest of the squad knew that though they did not have a coach, they were still going to compete.
That dedication is something Bezek agrees with, as he said how being put into this role caused these upperclassmen to become more invested in the team, as they had to take ownership of leading the program during the span without a head coach. He also said assistant coaches Maciorowski and Knapton helped the leaders run the team.
Bezek comes to Oswego State with a history of working in the game of lacrosse for many years now. He spent the last three years as an assistant coach at Hamilton College, particularly working as the defensive coordinator. Before going to Hamilton, he served as the interim head coach at Vassar College. In his one year there, the program captured its first-ever Liberty League victory. Bezek played collegiately for LeMoyne College and was part of the 2007 NCAA Div. II National Championship team as a freshman.
Kennish said Bezek's resume showed that this program is in good hands for years to come.
"We knew he was a great lacrosse mind, I think he came here and solidified what we're trying to do," Kennish said.
Giampaolo and Crevier said the little things he brings, when it comes to his attention to detail and also being someone who still has fresh memories of playing on a college team is what makes him a great coach for them.
The Lakers return six of its top seven scorers with top-scorer and senior Giampaolo coming back for his third and final season with the program. His 26 goals last season earned him first team All-SUNYAC honors and now he is looking to try and duplicate or improve upon the success from his breakout season.
Giampaolo said he is definitely looking to improve upon last season. As he pointed out, there were many games when he did not score at all, something he hopes to be able to do on a more consistent basis.
When it came to conference games, Giampaolo struggled, only scoring in two of six. Giampaolo credited that to poor shot selection and said he is currently working on that in practice to have an even better season.
Bezek believes Giampaolo brings a lot to the table that makes him such a threat, and as the season goes on, he thinks the senior's play will continue to improve.
"He's just naturally very skilled," Bezek said. "He's a good athlete, he knows how to play the game well, which I think will help him once we implement our system because he won't be forcing anything."
Hoose returns as another perennial threat on the offense, leading the team in assists in each of his three seasons at Oswego State. Playing alongside Giampaolo, senior Connor Khammar, who scored 17 goals last season, and Palmer, an all-conference honorable mention from last year. It might make it easier to be able to set up such great scorers, but he is a leader.
What really stands out to Bezek on Hoose is his lacrosse IQ. It comes from his experience at Oswego State and a great high school program at West Genesee, a school from the Syracuse area, and one that has produced six players on the current Oswego State team. He acts like a coach on and off the field, which makes the Lakers a better team overall.
Hoose is also looking to be put in the record books with the all-time greats of the program, currently tied for 12th in points all time with 131. If Hoose has the type of season he has had in each of the last three, he will be on pace to be in the top five all-time in points.
Another factor in this offense returning is junior Crevier. Crevier worked the faceoffs for the Lakers last year, taking more than 87 percent of the team's face-offs. His excellence in the faceoff circle led Oswego State to be third in the SUNYACs in faceoff wins. He also was second in the conference in ground balls with 86. But, now he looks to take over a new role working more up on the offense as the Lakers have now found a new faceoff man in sophomore Chase Izyk, a transfer from Div. II Roberts Wesleyan, and also an Oswego native.
Faceoffs are a major facet of the game. If one wins a faceoff, the team could bring the ball down the field and create scoring opportunities quickly, but Bezek said having a solid player if the face-off also helps with will ball possession.
"The old saying goes, 'If they don't have the ball, they can't score,'" Bezek said, referring to the opposition's chances if the Lakers are controlling the ball possession.
Part of what has this offense looking so good at the beginning of its season is its veteran presence, which is also the case with the defense. Kennish and junior John Novitsky, who has started in every single game in his two seasons at Oswego State will be leading the defensive group that looks to rebound from losing top defenders in Luke Bender and Brian Murphy, who were No. 1 and No. 2 in caused turnovers last season.
Kennish said he feels confident in the defense, with Novitsky and himself taking over the voices of that side of the squad. He also trusts the younger players who will be stepping into new roles and the things they learned from guys like Murphy will help them in the long run.
From the offense, to the faceoff circle, to the defense, the last position that will be key for the Lakers' success is the man in net. Sophomore Wyatt Russo returns from starting in 11 of the Lakers' 15 games in 2014. He finished the season with 9.02 goals against average, a .546 save percentage and a 5-7 record. But now, Russo will reportedly be battling sophomore Troy Calkin, who appeared in two games between the pipes.
Bezek said Russo has the experience over Calkin, and the defense might be a little more comfortable with him because of it. But, the way Calkin has played during the offseason has pushed Russo to do better, as it has been a great battle for playing time.
"Goalie is the most important position on the defense," Kennish said. "He's our quarterback in that football sense. They have to be the loudest guys, they have to have great vision of the defense."
Kennish also said having these types of competitions at any position helps everyone improve.
"It helps guys get better. You don't want guys getting complacent, especially at a position like goalie to have a guy right behind you to push you to be better," Kennish said.
The Lakers are scheduled to play their first game of the season on March 3 at SUNYIT. But, they will not be starting SUNYAC play until March 28, when they host SUNY Oneonta. Having that month to play before the conference schedule starts, Bezek said, will be important as it will be a chance to to implement the new system in place by the new coaching staff so that they are prepared to play their best when they start the conference schedule.
Giampaolo knows how important the early non-conference play is. Oswego State will look to be at its best as the season starts to pick-up when it plays its in-conference opponents.
"We just want to be ready going into the conference games…We just want to get organized so when it comes conference time, we're clicking at the right point," Giampaolo said.
This was something the Lakers struggled with last year as they started out 4-2 in early non-conference play, but ended up losing all of their conference games. Oswego State has not made the SUNYAC tournament since 2009.
Kennish believes that having so much veteran presence on the team, this could be the year they put it together in conference play.
"Since I've been here, we've done well early on, we just need it to roll over into the conference play," Kennish said. "Last year we kind of hit a wall, and didn't get where we wanted to be. But now that we have guys who are experienced in conference play, I think we'd be able to relay the messages as an older group."
That belief is with Bezek as well, as he thinks they were close loses to having a solid 2014 season.
"We can definitely be a competitive team in conference and win some conference games," Bezek said. "Last year I think they were a few goals short here and there, so I think if we iron out just some of the small things, we can be in a much better spot in the league. Our goal is to get to the SUNYAC playoffs and then go from there."
What Bezek believes will be key is how much the team can buy into the system that the new coaching staff has implemented, something that he thinks they have already done early on in the preseason.
For the seniors, this will be the last chance they have at making the postseason. For Kennish, it would be a huge goal achieved if they were able to do it.
"That would be the holy grail, if you will, to get there, to play a team like Cortland or team like Plattsburgh for the conference championship," Kennish said. "That's what we've been trying to do this season and that's where we want to be."