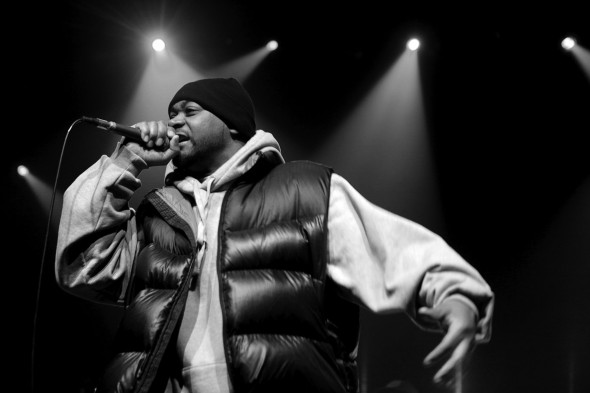 The Shaolin wizard of hip-hop has made a boisterous return to form on a new collaborative album entitled "Sour Soul," featuring lush instrumental backing by Canadian jazz/improvisational hip-hop trio BADBADNOTGOOD.
Dennis Coles aka Tony Starks aka Ghostface Killah of Wu-Tang Clan has remained a busy man always hungry and effortlessly cool in spite of growing older but still wiser.
"I don't know if I am getting any greater, or if I am mellowing out," Coles said in a January interview. "I'll never be the same as I was back then, and I could fall off at any time. At least I try to stay consistent with every album I do. But I consider myself a wizard of poetry."
After parting with his longtime label Def Jam, he took an amazingly sparse 11 days to make and release his 11th solo studio album "36 Seasons" this past December.
The trio from the Great White North is composed of keyboardist Matthew Tavares, Alexander Sowinski on the drums, and bassist Chester Hansen. The musical project is considered to be the enfant terrible of the contemporary jazz world, vexing and thumbing their noses at traditional jazz critics with their deconstructions and reinterpretations of jazz and hip-hop standards on their three eponymous releases.
On paper, the esoteric, less-is-more style of improv of BADBADNOTGOOD and the bombastic, loquacious braggadocio of the Staten Island M.C. seem to clash, but when the two meet something amazing happens.
The album's sound is very much keeping in line with Wu-Tang's pastime of paying homage to the soundtracks of blaxploitation and martial arts films from the '70s, but these are no flimsy samples of kung fu master's axioms and swordfights. BADBADNOTGOOD's smoky, jazzy musical maneuverings add a layer of sophistication and polish to the album. The entirety of "Sour Soul" feels like a lost soundtrack to a hip-hop James Bond movie or to a remake of "Enter the Dragon" directed by fellow Wu-Tang member and frequent Tarantino collaborator RZA.
One of the album's singles, "Ray Gun" sounds like a Madlib beat (not that there's anything wrong with that) and it doesn't help that hip-hop supervillain MF Doom is also on the track. "Six Degrees" has the just-as-lyrically-frenetic Danny Brown laying down a verse or two in the midst of tasty basslines and silky smooth chord progressions.
This album is an absolute can't- miss for fans of Ghostface Killah and should be a pleasant surprise for those looking for a different, less immediately ostentatious brand of hip-hop.