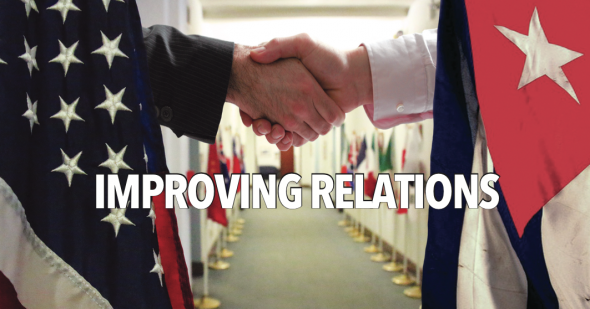 On Dec. 17, 2014, the U.S. and Cuba announced they would begin rebuilding diplomatic relations. The new relationship is poised to benefit both nations and Oswego State.
The announcement comes after more than 50 years of hostility between the neighboring countries. Since the height of the Cold War, the two sides have bitterly resented each other.
"There has been an antagonistic, at times hostile, relationship between the two governments," said Joshua McKeown, director of International Education and Programs at Oswego State.
The U.S.'s hostile relationship with Cuba goes back to 1959, when Fidel Castro and his rebels overthrew Cuban President Fulgencio Batista. Castro created a socialist government in the aftermath, while securing an alliance with the Soviet Union. In 1962, the U.S. discovered the U.S.S.R. was storing missiles and nuclear warheads on the island, instigating the Cuban Missile Crisis. The event pitted Cuba and the U.S. as Cold War enemies.
But the Cold War is over and the idea of normalizing relations with Cuba has floated around Washington D.C. since the Soviet Union dissolved over 20 years ago. The end of the U.S. embargo against Cuba is a leading motivation.
"Going back to the 1990s, there have been many congressmen and senators who have either promoted relaxing previous embargo provisions or doing away with it," said Leonardo Hernandez, who specializes in Latin American history at Oswego State. "There's always been some interest at the highest level of our government to end the embargo."
Considering the world's geopolitical circumstances are much different from the days of the Eastern Bloc and Reagonomics, lawmakers have found that the Cuban Embargo is causing unnecessary headaches and has overstayed its role.
A recent Forbes article quoted a U.S. Chamber of Commerce report claiming the economic sanctions against Cuba cost the American economy somewhere between $1.2 and $3.6 billion a year, according to Hernandez.
In addition, the U.S. does not see eye-to-eye with other countries on the situation in Cuba. In fact, they're one of few western nations with an unfriendly stance toward the island. At times, this has frustrated U.S. foreign policy toward Latin America.
"Diplomatically, the potential end of the embargo will bring American foreign policy in line with many, if not most, nations in the Western Hemisphere," Hernandez said. "In the past, Latin America-U.S. relations have seen friction since opposition to isolating Cuba has not always been unanimous among the nations of the Americas."
Lifting the embargo would open several doors between the two countries, but the door that has attracted many proponents is trade.
"From Midwestern state Chambers of Commerce to medical tourism organizations, the push to end the embargo since the 1990s has seen many governor and business delegations visiting Cuba in order to either expand their commercial presence on the island or scope out potential commercial opportunities," Hernandez said.
Specifically, U.S. states with farming and food-production industries could gain from an end to the embargo. The American farming community is one of many business-minded proponents pushing for trade with Cuba.
"Domestically, those states with agricultural interests stand to gain from increased U.S.-Cuban trade arrangements," Hernandez said.
Cuba also stands to benefit from U.S. influence. The socialist republic's economy will continue growing due to recent small and gradual shifts from public-sector domination to more privatization and as American investors and tourists begin pouring onto the island with business opportunities and money to spend.
"In part, the growing number of privately-owned, small businesses outside the control of the Cuban state is what some say is evidence that rather than squashing such a trend, we need to nurture it," Hernandez said. "We can do this by facilitating American investment, tourism and helping modernize the Cuban economy."
The benefit to Cuban society will be profound. The island's state-controlled economy has been ailing under the regimes of Fidel and Raúl Castro, as well as punishing American sanctions.
"Those authorized to travel and invest will certainly bring or send badly needed currency to invest in the island's economy," Hernandez said. "As these changes slowly make their way through the Cuban economy, it will become clear how much the regime has used the embargo to explain its own mismanagement of the economy."
In addition to both nations benefiting economically, Oswego State will benefit from better Cuban relations. The foreign exchange department has had a program in place with Cuba since 2004 and is one of only two SUNY schools offering a program to that country.
"Eugenio Basualdo was the first SUNY Oswego professor to bring a group of students to Cuba for the semester study abroad program," said Lizette Alvarado, associate director of International and Education Programs at Oswego State. "Our program has consistently brought students to study at the University of Havana for the last 10-and-a-half years."
But as the United States continues restoring formal diplomatic relations with Cuba, Oswego State's foreign exchange program with the U.S.'s decades-old socialist adversary is becoming easier to operate.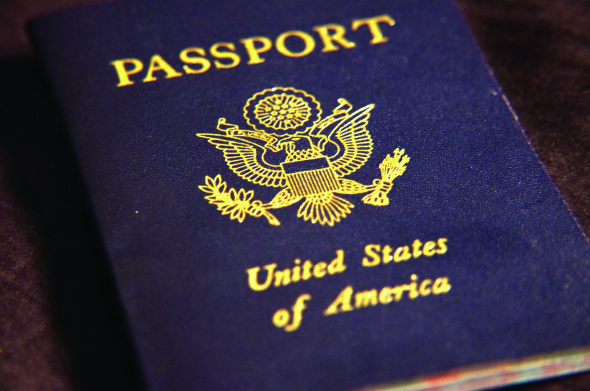 "It is now a relatively easier time to operate such a program in Cuba," McKeown said. "But it was very, very challenging to do so for quite some time and yet we were successful at it."
Oswego State students and faculty have had good relationships with their Cuban counterparts, despite the country's differences.
"The students we have sent to Cuba over the last 10-and-a-half years have attended the University of Havana alongside Cuban students with Cuban professors teaching their courses," Alvarado said. "They have traveled throughout Cuba with SUNY Oswego and Cuban faculty, staff and other students, including Cuban students, and have attended conferences and concerts. The students have been able to engage with Cubans as they go about their daily lives in every way such as taking the bus, ordering lunch, listening to music, going to museums, walking in the streets and hanging out at a plaza or at the Malecon [sea walk]."
A decade ago, students nationwide who wished to study abroad in Cuba didn't have many options. Oswego State's Cuban Exchange Program was one of the few available.
Since travel restrictions have become more moderate and political tensions began to thaw in recent years, universities around the country began creating their own programs.
"Now there are many," McKeown said. "For a while SUNY Oswego was only one of four or five to do so."
As the relationship between the two countries continues to improve, both nations' economies will benefit from increased trade. In addition, travel and interaction between both nations' citizens will increase, leading to stronger influence and more interwoven cultural-ties.
The embargo has been the largest obstacle to overcome.
"By far the biggest obstacle has been the trade embargo that the U.S. has had on Cuba for over 50 years, and the lack of diplomatic relations between the two countries," McKeown said. "It has made for many restrictions on travel, purchases, communications and overall [foreign] exchange."
Despite the U.S.'s strict embargo and bitter relations with Cuba—which would normally make wary U.S. travelers want to stay as far away from the reclusive island as possible—McKeown insists these circumstances make Cuba a unique, and fascinating destination for students and faculty.
"That same status has made Cuba an interesting country for students and faculty to explore," McKeown said. "It has developed a distinct system of government and economy from what most of us know in the U.S."
When the program was created, Cuba was an American pariah. The U.S. government heavily restricted travel to the island.
No U.S. citizen was allowed to travel to the country from the mainland U.S. by any means, unless they had a permit or were traveling through an organization with special licensing from the U.S. State Department. But unless a U.S. citizen tiptoes along the border of legality by flying to Cuba from the U.K., they could not travel to the beautiful Caribbean nation without authorization.
"SUNY Oswego applied for a license through the U.S. Department of Treasury Office of Assets Control," Alvarado said. "This license provided us with permission to travel to Cuba for educational reasons."
In recent years, restrictions were slowly lifted as the U.S. softened its stance against Cuba. It is now easier to travel to the island for educational purposes.
"In 2011, President Obama made changes in the regulations and all U.S. colleges and universities were granted a general license," Alvarado said. "No longer is it necessary to apply for a license on a yearly basis to travel to Cuba for educational reasons."
Cuba is still governed by a politically oppressive, heavily militarized, authoritarian regime.
"The Cuban government has kept a tight lid on who comes into the island state, what they're doing and how," McKeown said. "Police presence is visible and attentive, particularly in the tourist areas like Old Havana and in the University of Havana area of the city."
Considering these circumstances, and the island's historically bitter relationship with the U.S., there is a concern that Cuba is too dangerous for U.S. citizens.
"The opposite has been true and I believe it will continue," McKeown said. "Cuba is a very, very safe country to travel to for many reasons. There is little, if any, serious crime, especially against foreigners. There are no guns on the street and no gang presence that I have ever heard of. I can't stress enough: Cuba is very safe for students."
In addition, the Cuban people are generally favorable of Americans.
"Americans are particularly welcomed because the Cuban people have always wanted good relations with American people," McKeown said. "And I believe vice-versa."
Hernandez said the two countries actually share a lot of common historical threads.
"Cubans would have no objection to closer U.S.-Cuba relations," Hernandez said. "The two nations have a long history of cultural and commercial exchanges that ended abruptly when the two nations could not agree on what was best for the Cuban people back in the 1960s."
In recent years, segments of Cuba's economy have slowly transitioned to include more capitalist-based fundamentals. The island's economy will likely continue expanding with free-market principles due to more influence, interaction and trade with the United States.
It's unlikely their political system will follow.
"Undoubtedly, if America and Cuba establish diplomatic relations and the trade embargo is lifted, I can see Cuba heading down the path of China," Hernandez said. "A country whose economy is more or less free-market oriented but whose people live under a political system that restrict people's freedoms."
Some wonder if a gradual shift in Cuba's political system towards democratic principles and a federal-republic foundation—similar to that of the U.S.— is a possibility.
While Cuba and China both have political opposition, and governments that brutally suppress it; China's Communist Party enjoys a degree of legitimacy due to the nation's growing economic-prosperity and powerful military.
Cuba does not enjoy those benefits.
"Cubans are not Chinese people and while the regime has support among many Cubans, it is also the case that criticism of the regime inside Cuba has always been there," Hernandez said. "How these two strands—support and criticism—would come together in a new Cuba is difficult to ascertain at this point."
Whichever path Cuba takes, its new relationship with the U.S. could bring far-reaching benefits to both sides. This includes the smooth operation of Oswego State's exchange program with the University of Havana.
"Cuba-U.S. relations have historically been close, so I don't foresee relations that address what each nation considers important to its respective sovereignty as anything but trust-building and as such with long-lasting consequences," Hernandez said.
A budding U.S.-Cuba relationship could hold promise for a mutually beneficial future, but those looking to immediately reap all the benefits will have to wait. The rebuilding process has only started.
It is not a done deal however.
"It is not, by any means," Hernandez said. "Don't forget that all that we have so far are steps toward formalizing diplomatic relations and the relaxing of embargo rules, a gesture of good will on America's part."
The fate of the rebuilding process and how fast it takes rests on Congress.
"Only Congress can end the embargo," Hernandez said. "What the president has done is to ease restrictions as a precursor to formal diplomatic relations. The trade and travel embargo being eased does not mean the embargo is being lifted."
In the meantime, foreign exchange students at Oswego State and universities nationwide can enjoy smooth-running Cuban exchange opportunities without major political obstacles in the way.