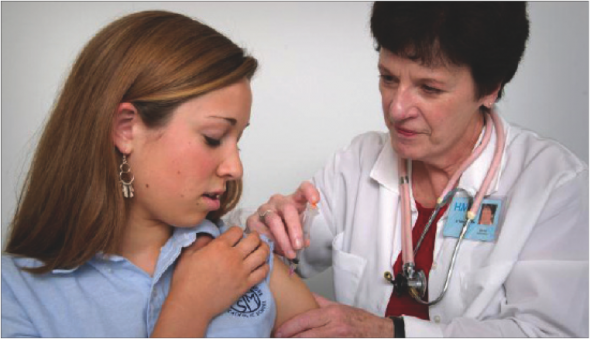 There have been a slew of opinions on getting vaccinated.  These debates have been based upon the argument over whether vaccines help or harm your body.
With the outbreak of measles in California, people are overreacting and overthinking the purpose of vaccines and how they really affect your health.
Vaccines have prevented over 6 million deaths every year worldwide, according to CNN. They also improve your immunity to the targeted disease and allow your body to fight any foreign viruses.
In 2009, the H1N1 virus captivated the nation's attention with citizens panicking for their lives about catching it. But of course, the vaccine to make your body immune to H1N1 was created just months later, according to WebMD. Over 28 million adults and 18 million children received the vaccine, allowing for better control over the widespread H1N1. When vaccines are within our reach, why not receive the ones you need to easily prevent the spread of these diseases?
Instead of searching the Internet for every possible answer on vaccines, our nation should focus on helping themselves out and their own children. We have been using vaccines since 1796, according to the Children's Hospital of Philadelphia. Why should we start panicking now about what they're doing to our bodies? Obviously they have worked for quite a while now, so I don't understand why people are choosing to go without them, and by doing so, putting themselves and others at risk.
Schools have the right to require students to enter with the needed vaccines. If nobody received required vaccines, there would be an outbreak of viruses and diseases not only in schools, but it would later potentially widespread across the nation. These outbreaks would create even more unwanted drama and issues in our schooling systems.
Personally, I chose to get the required vaccines that my doctor recommends. I have never known anyone who has had an issue with receiving a certain vaccine. I think most people are overreacting to what they hear on the TV and what they read on the Internet. An online influence about anything creates a larger issue because one never knows what's true and what is not.