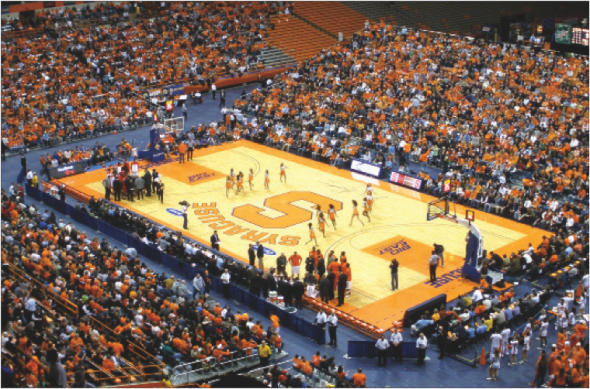 Syracuse University has self-imposed a ban on postseason play for the 2015 men's basketball team. The ban comes as a result of player violations not being appropriately handled from the years 2007 to 2012, according to ESPN.
Players had been allowed to play despite failed drug tests. Someone has to answer for the Syracuse basketball program disregarding NCAA rules. However, the young men playing on a team that did not violate any rules should not be the ones held accountable.
In a joint statement, three Syracuse players, including Rakeem Christmas, Trevor Cooney and Michael Gbinije said, "We are all tremendously disappointed that we are going to miss out on playing in the postseason based on issues that do not involve us." This is exactly the point. Christmas is a growing star. The NCAA tournament provides an audience beyond passionate college hoops fans. Because of this ban, Christmas will not have the opportunity to potentially showcase his ability on a bigger stage.
In all fairness, Syracuse has had a mediocre season and was not poised to make a lot of noise in the postseason. If a ban has to happen, this was one of the better years to enact it. Normally an elite basketball program, Syracuse has stumbled to a pedestrian 15-8 record. This takes away from the severe illogicality of the ban though. Syracuse still has 10 games left to play, five against teams that are currently ranked top 10 in the nation. In other words, Syracuse ends the season with a brutally tough stretch. Because of the ban, the incentive to leave it all on the court has been lost. Syracuse players should be excited to play against a plethora of top tier teams while holding onto their slim postseason chances. However, they are now a team with nothing to play for, aside from personal pride for each player. I want Syracuse to turn the ban into passion. I want them to play their best basketball of the year over the final stretch. However, with the zero chance of making the NCAA tournament looming over the players' heads, uninspired basketball should be expected.
Syracuse faculty athletics representative Rick Burton said the ban is a way to "close this particular chapter and look towards the future."
No, Rick.
Punishing the young men on this year's team does not lessen the offenses of former teams. It merely continues to taint the present. Syracuse head coach Jim Boeheim also expressed support for the punishment. Everyone is sympathetic toward this year's players, however, no one within the basketball operations is standing up for them. No one is fighting for them. That is troubling.