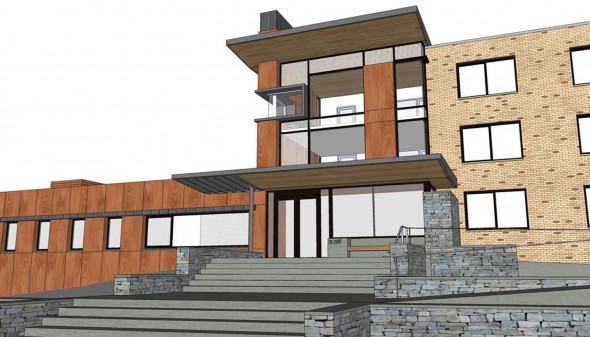 At the end of this semester, Waterbury Hall will have no vacancies as renovations begin, leaving some residence displaced into other resident halls.
Waterbury residents were informed of the renovations in early spring 2014 and advised to decide their choice in housing for this fall.
"It was the student choice whether they would stay or go, and we gave them the opportunity and all the information before room selection, so they can choose to move to another building and not have to worry about a December move," said Richard Kolenda, assistant vice president of Residence Life and Housing.
Normally, Waterbury has contained approximately 200 residents. There are currently 155 residents in Waterbury. About six residents out of 105 returning students have already moved into their room assignments for the spring to avoid the mid-semester move, according to Residence Life and Housing.
"[I] find it to be a major hassle to have to leave in the middle of the semester," current Waterbury Hall resident Ryan Pabis said. "I'll be moving with one of my neighbors to hopefully Scales, Riggs or Funnelle."
Residence Life and Housing made an effort to put students in Waterbury at the beginning of the semester that would only be living on-campus for one semester anyway. These residents may include students in the international exchange program, students who plan to student teach, study abroad or upcoming graduates.
Because there could be a change in a student's housing intentions for next semester, the number of Waterbury residents that are staying on campus is not set, but is projected to be 105 students that need to be placed in other residence halls. These students will be given first priority in housing placements for next semester.
Marie Driscoll Germain, the associate director of Residence Life and Housing, is responsible for students' placement. Residence Life and Housing is giving Waterbury residents top priority along with students who are in over-occupied rooms, based on their seniority.
"Waterbury residents in need of housing for spring were asked to submit preferences regarding which halls they would most like to live in, specific roommate requests, etc," Germain said. "Based on the priority and hall preferences submitted, I have provided each hall director with a priority list each will use to offer new room assignments to Waterbury residents."
Because Waterbury is given first priority, other students might have limited options if they want to change residence halls.
From past experiences and statistics, Residence Life and Housing predicts to have 450 to 500 students that will not be coming back to campus next semester, opening spaces available in housing. According to Kolenda, closing Waterbury should not have an effect on other students, but as far as housing, residence halls should still be tight in space.
"Right now we probably have a handful of triples," Kolenda said. "Many of them want to stay in triples, they were offered double rooms and didn't want to go. There are a few that will hang in there until next semester and we will get them out of their triples. The first goal is to get Waterbury out and to de-triple those who want to be de-tripled. The second phase is to try to house all the incoming students for next semester."
According to Residence Life and Housing, in the worst case scenario, they might have to create triples and use lounges to consolidate people, but do not foresee this being a problem with the statistics and figures they are accounting for now.
"It is through experience, and Marie has great experience in trying to orchestrate these moves to getting everyone where they want to be," Kolenda said.
On Nov. 13, Germain sent out an email to junior and senior residents who have met their on-campus housing requirements. This email informed students that the number of students who need housing exceeded the space that is available and that many students were assigned "over-occupied rooms" this fall semester. They also included that they anticipate a similar problem for the upcoming spring semester.
Until Residence Life and Housing sufficiently reduces their numbers, students who want to live off campus in the spring 2015 semester, but have already met their housing requirement, will be approved to live off campus once they submit a Request to Terminate the Room and Board Agreement. Once these numbers are satisfied, they will stop approving requests.
Although there are no guarantees, the numbers that Residence Life and Housing has shown suggest they will be able to fit everyone.
The renovation in Waterbury will be complete by the beginning of fall 2015. These renovations include wheelchair accessibility, lounges and kitchenettes on every floor and gender-neutral bathrooms.
"I feel that the blueprints for the new hall do not reflect the spirit of Waterbury," Pabis said. "Waterbury has been my home for the past four years, and if you ask anyone who has been living here, they will tell you that yes, this is one of the oldest halls, but it has character. In my opinion, Waterbury will not be Waterbury once these renovations are complete."
These renovations are the initial cause of the displacement of students, but Residence Life and Housing hopes to make the best out of it.
"We are working very hard to make this a smooth transition and minimize student stress and frustration," Germain said.
Waterbury renovations will begin Dec. 15.